041201 National Beef Packing "Optimistic" On Beef Sales
December 2, 2004

Kansas City, MO - The CEO of the nation's fourth-largest beef processor says he's optimistic the industry can rebound from the mad cow disease scare, citing the expected reopening of Japanese markets next year.

John Miller, CEO of National Beef Packing Co. LLP, also discussed President Bush's promise to allow Canadian-raised cattle back into the United States.

"We think that (with) the Canadian border opening, as well as the eventual opening of export markets, we'll begin to see more historical-type earnings come back into the industry," Miller told analysts during a conference call.

The top four beef-producing companies -- including industry leaders Tyson Foods Inc., ConAgra Foods Inc. and Cargill Inc. -- provide more than 80% of the nation's beef.

The companies suffered after foreign markets banned U.S. beef when a case of mad cow disease, or bovine spongiform encephalopathy (BSE), was discovered last December in Washington state.

The infected cow came from Canada, and officials prohibited U.S. beef packers from importing Canadian cattle or beef.

While beef products were later allowed in the United States, cattle was not, which drove up the price of native animals.

Bush last week said he would instruct federal officials to speed up the process of lifting the ban on Canadian cattle and said new regulations could be ready by early next year.

In October, the U.S. Department of Agriculture said it reached an agreement with Japanese negotiators to reopen the market to U.S. beef next spring or summer.

Details were being resolved, but Japan said it would allow the import of beef from cattle 20 months of age or younger.

That will require beef producers to install systems to track cattle ages, a process that could take several months or years.

National Beef officials estimated that less than 20% of cattle is currently tracked by age.

National Beef said its profits for the fiscal year that ended Aug. 28 were $44 million, or less than half the $89 million the company made in 2003.

Total sales were up almost 12% to $4.1 billion, but chief financial officer Jay Nielsen said that was because of price increases and the company had sold less beef.

National Beef said it expected a small profit in the current quarter, but analysts noted that the company asked its lenders to renegotiate terms of its debt.

Miller cautioned that beef markets are in a delicate position, as shown during last month's false alarm of a second mad cow case and the subsequent dumping of beef and restaurant stocks.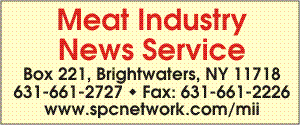 E-mail: sflanagan@sprintmail.com