041045 S.Korea to Maintain Ban on US Beef, Poultry
October 27, 2004

Seoul, South Korea - South Korea will maintain its ban on American beef, oranges and poultry imports despite an official U.S. request for lifting it, South Korea's Agriculture Ministry said.

South Korea reconfirmed the position that it will keep the import ban until it sees the restoration of consumer confidence in such U.S. products here.

In a meeting with Agriculture and Forestry Minister Huh Sang-man, a high- powered U.S. delegation explained the steps the United States has taken to strengthen quarantine safeguards against mad cow disease and avian influenza.

Washington's negotiators, led by U.S. Undersecretary for Farm and Agricultural Services J.B. Penn, delivered the message on behalf of U.S. Agriculture Secretary Ann M. Veneman.

Toward the end of the meeting, Huh asked them to relay the message to his U.S. counterpart that South Korea hopes for understanding by the U.S. on the countries' negotiations on further opening of the rice market, given its political and social implications.

The meeting, the third of its kind since the discovery of mad cow disease in the U.S. last year, came at a time when South Korea is holding discussions on further opening of its rice market with the U.S. and eight other countries, such as China and Australia.

South Korea, the third-largest importer of U.S. beef after Japan and Mexico, received shipments worth about US$655.9 million in 2002, according to officials.

More than 30 countries suspended beef imports from the U.S. after Washington said tests on a Holstein cow slaughtered on Dec. 9 confirmed the animal had mad cow disease, the common name for bovine spongiform encephalopathy. It was the first time the illness had been detected in the U.S.

The bans have dealt a blow to the U.S. livestock industry, which expected to export a record $3.6 billion of beef last year, according to U.S. officials.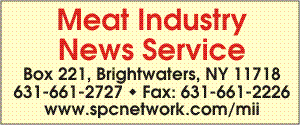 E-mail: sflanagan@sprintmail.com