041038 Overseas Markets Available for U.S. Beef
October 30, 2004

Kearney, NB - With Japan and Taiwan taking steps to lift bans on U.S. beef, more overseas markets are reopening after a mad cow scare.

But restrictions may apply since bovine spongiform encephalopathy, or mad cow disease, was confirmed in a Washington dairy cow last December, and Nebraska ranchers may have to be flexible. For example, Japan wants beef from cows younger than 20 months. And European markets want beef that is free of hormones.

The assistant director of the Nebraska Department of Agriculture, Greg Ibach, says ranchers need to think of themselves less as commodity producers and more as producers for niche markets.

Ibach says that currently, at least two processors in Nebraska are certified to export beef to Europe. They are Greater Omaha Packing Co. and J.F. O'Neill Packing Co. Inc., both in Omaha.

"In Europe, hormone-free is the only option," Ibach said. "Even if they (governments) were to lift the ban, their consumers are of a mindset that they won't accept anything but hormone-free anyway." U.S. beef interests could continue to lobby against the hormone ban, Ibach said, but he believes that would be money wasted.

"We need to recognize as a state that they're not going to change those trade agreements," Ibach said.

Producers interested in selling to European customers must be willing to raise certified hormone-free beef processed by approved packers, Ibach said.

The state Department of Agriculture has a manual and staff help for producers wanting to qualify hormone-free cattle, Ibach said. Extension educators from the University of Nebraska also are key contacts for producers, he said.

Nebraska also has developed a voluntary livestock identification registration system, with its primary focus on containing animal disease outbreaks.

The University of Nebraska will present a satellite video conference on the system featuring state and federal agriculture officials.

Market factors, including the requirements for doing business with countries in Europe and Asia, may drive the animal ID issue faster, Ibach said.

"I think consumers will find value in it. I think retailers will find value in it," Ibach said. "I know foreign customers will."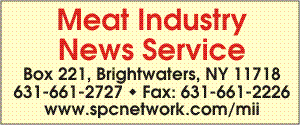 E-mail: sflanagan@sprintmail.com