041025 California Grocer Sells Organic Beef in South Dakota
October 28, 2004

Sacramento, CA - A California supermarket chain last week began offering organic beef processed in South Dakota at all of its 134 stores.

Raley's began offering Dakota Beef's certified organic beef in a one-pound case- ready tray. Dakota Beef's cattle are raised on certified organic ranches in the Midwest and processed at Dakota Beef's certified organic facility in Howard, S.D., according to a Raley's news release.

Raley's is a privately owned supermarket chain with headquarters in West Sacramento. The company is composed of four chains: Raley's, Bel Air Markets, Nob Hill Foods and Food Source. They are located in Northern California, Nevada and New Mexico.

Raley's is one of the nation's top 20 supermarket chains in the nation based on a survey published in the May 2003 Progressive Grocer magazine. With annual revenue in excess of $3.2 billion, it is the sixth largest private company in California, according to the November 2003 issue of Forbes.

Dakota Beef, headquartered in Chicago, with operations in South Dakota, is the largest vertically integrated organic beef company in the country, according to the release. Dakota Beef produces certified organic beef for national retailers, branded food companies and regional distributors. The company was founded in 2000.

It sells only certified organic beef products. Its beef cattle are never administered antibiotics or growth-promoting hormones and are fed a strict vegetarian diet that never includes any animal by-products, according to the release.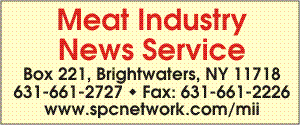 E-mail: sflanagan@sprintmail.com