041019 McDonald's Introduces McVeggie Burgers
October 7, 2004

Melville, NY - Hain Celestial Group Inc., the largest U.S. organic foods manufacturer, is making a new soy burger for McDonald's Corp. locations in Manhattan as the restaurant chain seeks more health-conscious consumers.

Called the McVeggie Burger, the meatless patty has 8 grams of fat and 370 calories, Melville, N.Y.-based Hain Celestial said. The McDonald's "Big Mac" has 560 calories and 30 grams of fat, according to McDonald's Web site.

McDonald's, the world's largest hamburger chain, introduced items including salads last year to expand its menu and improve food quality. The company started selling the Hain McVeggie Burger at 50 New York City locations, replacing a meatless patty already on the menu.

"We do not sell as many veggie burgers as we sell hamburgers, but we certainly view it as attracting a customer that may or may not have been comfortable eating at McDonald's in the past," said Jim Lewis, who owns eight McDonald's in Manhattan.

Lewis said the new patty is "juicier" and "thicker" than the one it replaces. He is selling it for $2.99, the same price he charges for a quarter pounder with cheese.

Oak Brook, Ill.-based McDonald's already offers Hain McVeggie Burgers at about 3,300 restaurants in California, Oregon, Washington state, Hawaii and Canada, Hain said.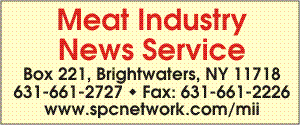 E-mail: sflanagan@sprintmail.com