040930 Revised Livestock Insurance Resumes
October 3, 2004

Wichita, KS - A government livestock insurance program shelved after the discovery of mad cow disease in this country has resumed sales with key changes designed to protect it from massive claims arising from disasters and volatile markets.

The revamped Livestock Risk Protection Insurance Program began offering government policies again late Thursday, according to the Agriculture Department's Risk Management Agency.

"We certainly structured the program to be a helpful risk-management tool for producers and we hope they find it to be that way," said RMA spokeswoman Shirley Pugh. "We will know more after a month of sales."

An insurance policy allows a producer to lock in a price for animals during a set time period. If the livestock market falls below that price during that time, the insurance program pays the producer an indemnity, said Eric Henry, risk management specialist at RMA's Kansas City office.

With its resumption, the pilot program has been expanded to include six more states - Missouri, Michigan, North Dakota, West Virginia, Wisconsin and Ohio. Previously, it was offered only in Kansas, Oklahoma, Colorado, Iowa, Illinois, Indiana, Minnesota, Nebraska, Nevada, South Dakota, Texas, Utah and Wyoming.

The revised program also offers risk insurance programs for fattening and fed cattle coming out to market to producers in those states risk insurance programs. The program also was expanded to include swine, heifers and dairy cattle.

Resumption of livestock insurance was welcomed by cattle producers who have seen wider price swings in the market along with the higher trading range for their cattle.

"That higher volatility is for a lot of producers a little tough to take," said Matt Teagarden, director of industry relations for the Kansas Livestock Association. "It creates a lot of uncertainty and this program provides another way to reduce the risk."

At the same time, the restructured program also now includes measures designed to protect its own financial integrity during wild fluctuations in futures market prices or catastrophic events such as the mad cow scare that prompted the government last year to suspend the insurance.

In the hours after the government announced the nation's first mad cow case, cattle producers flooded phone lines and offices of insurance agents trying to buy livestock risk policies before the program was suspended.

Among the changes now in place to prevent a similar run is a $1 million daily sales limit on premiums and specific procedures for suspending and resuming sales, Henry said. The government also now allows policies to be sold only during nonbusiness hours - between 5 p.m. and 9 a.m. Central time daily - to give the agency time to set new daily premium rates after commodity markets close and other factors are considered.

"The program was not intended to be a bailout after a catastrophic event. ... They have tweaked it a little bit to take care of those type of instances," Teagarden said. "The intent is to utilize the program before such an event as part of a risk management strategy to protect against losses from market declines."

The government's livestock risk insurance program had few losses from the mad cow scare because market prices quickly rebounded, Henry said.

Before the program was suspended in late December, the government sold 1,018 livestock risk policies protecting 1.02 million head of cattle and swine, according to the RMA's web site. The program took in $7.05 million in premiums and paid out $7.12 million in losses nationwide.

Kansas cattle producers bought 106 livestock insurance policies before the suspension, protecting 36,254 head of feeder cattle in the state, according to RMA.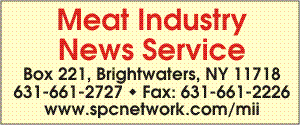 E-mail: sflanagan@sprintmail.com