040928 Lifestyle Changes Boost Poultry & Fish
October 3, 2004

Purdue University - Chicken and fish are carving out a larger place on America's dinner plate at the expense of cattle and pigs.

Purdue University researchers studying 30 years of U.S. Department of Agriculture data found that a combination of demographic, health and ease-of-preparation factors led to increased consumption of poultry and fish in the United States. Meanwhile, consumption of beef and pork either dipped or stagnated.

"We looked at USDA per capita consumption data from 1970 to 1999, and beef consumption decreased while pork consumption stayed about the same," said Christiane Schroeter, a Purdue agricultural economics graduate student. "Poultry had a huge increase in consumption, and there also was a slight increase in fish consumption. There's definitely been a change in the overall pattern."

Before the mid-1980s, beef and pork were Nos. 1 and 2 in per capita consumption among the four meat groups. By the late 1980s, poultry zoomed past pork in consumer demand and, by the end of the 20th century, poultry consumption had nearly pulled even with beef. Fish consumption, while a distant fourth, gradually rose throughout the 30-year study period.

Schroeter and fellow researcher Ken Foster, a Purdue agricultural economist, tracked meat demand trends from per capita consumption and consumer price data collected by the USDA's Economic Research Service. They also factored in data from the U.S. Census Bureau and several previous studies that examined the affect of health information on meat consumption.

The Purdue researchers concluded that changes in the American diet and greater numbers of women in the work force were the primary forces behind the gains made by poultry and fish. The introduction of microwavable foods and the addition of poultry and fish on fast-food restaurant menus also contributed, Foster said.

"Chicken and fish have made some pretty strong inroads" in per capita consumption, Foster said. "Perhaps some of that increase is in response to issues of health and changing family dynamics.

"We surmise from this data that with more women in the work force as opposed to 30 or 40 years ago, there is no adult at home with the kids. When the children come home from school the microwave is an appliance that they are allowed to use to prepare themselves some food. As it turns out, either because of the form of the product or because the marketers of fish and poultry have been more successful in making their products microwavable, those two products tend to benefit, relative to pork and beef."

The Purdue study indicated that journal articles containing negative information on cholesterol appear to have less influence on consumer attitudes regarding meat consumption than does convenience in meal preparation.

Total U.S. per capita meat consumption grew 9.3% from 1970 to 1999, Schroeter said. In that time span, poultry consumption nearly doubled, to about 67 pounds per person. Consumer demand for fish increased a third, to about 15 pounds per person.

Per capita beef consumption fell from about 95 pounds in 1976 to just under 70 pounds in 1999. Pork consumption dropped from just over 60 pounds per person in 1971 to between 50 pounds and 55 pounds per capita from 1982 to 1999.

The demand for more chicken and fish and less beef and pork is reflected in restaurant menus, Foster said. While beef remains a common choice, Americans are increasingly choosing what they believe are leaner, healthier options, he said.

"If you think about the menus of fast-food restaurants, years ago it was hamburgers at the fast- food joint," Foster said. "Now it's a choice between a hamburger, a fish sandwich, a chicken salad, a chicken sandwich, and those sorts of things. So while a lot of ground beef is consumed through fast food or eating away from home, there have been increases in the consumption of poultry and fish."

And pork?

"You just don't see much pork on those menus," Foster said. "If we were going to say anything about pork, it is that the industry needs more products and more exposure in the menus of restaurants and away-from-home consumption opportunities."

Both researchers said the study has broad implications - and opportunities - for the agriculture industry.

"Cultural diversity is increasing and, with it, shifts in demand," Schroeter said. "The food industry needs to find a way to diversify its production towards more convenient products, because consumers are looking for products that are easy to prepare."

As it rushes to satisfy consumer demands for nutritious, convenient products, the agriculture sector cannot forget food safety issues, Foster said.

"When we think about diversification strategies for food products, more and more we're talking about aspects that may require traceability of compliance all the way back to the farm level," he said. "We might be talking about antibiotic use. We might be talking about animal welfare. We could be talking about environmental compliance - any number of things that might require some integration of the system for compliance for certifying or differentiating products.

"Those things don't necessarily key into the convenience side of the equation, but they do provide niche opportunities for individuals who can do those things at a cost-effective level."

Source: Schroeter and Foster study, "The Impact of Health Information and Women in the Work Force on Aggregate Meat Demand," appears in the August 2004 issue of the Purdue Agricultural Economics Report.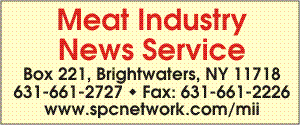 E-mail: sflanagan@sprintmail.com