040915 Beef Prices Up Nearly 15% Says Wendy's
September 22, 2004

Des Moines, IO - Wendy's International Inc. once again is asking, "Where's the beef?" That was perhaps the hamburger chain's most memorable advertising tagline from the past. Now, as it faces substantially higher beef costs than it anticipated, the company once again is wondering where all the cattle are.

After discovery of a lone case of mad cow disease in the U.S., many countries banned the import of American beef, leading to assumptions that there would be a glut of meat for domestic consumption.

But that hasn't happened.

"The prediction of beef costs has confounded some of us," Wendy's chairman and chief executive Jack Schuessler said during a premarket conference call Wednesday in explaining why the company lowered its full-year earnings estimate.

Disclosing that beef is expected to cost 14.8% more this year than last, Schuessler said, "We thought (costs) would come down in the third quarter. Supply is up. Production is down. That tells me (cattlemen) are holding it off the market. Grain must be cheap."

Schuessler predicted that once the U.S. presidential election is over, the U.S.-Canadian border would reopen to imports. The U.S. halted imports after concluding that the animal found to have mad cow disease in Washington state had come from a Canadian herd.

Citing higher beef costs as well as substantial lost sales from the series of hurricanes that lashed the U.S. in recent weeks, Wendy's lowered its full-year earnings estimate to $2.25 to $2.30 a share from $2.32 to $2.37.

Wendy's shares are expected to come under considerable selling pressure when trading begins on the New York Stock Exchange as a result.

The company said it lost more than 2,000 store days of sales in the third quarter from the hurricanes and related rainstorms. As a result, company- operated same-store sales are about 1% lower than a year ago.

Wendy's has about 18% of its stores in Florida, Georgia, Louisiana, Alabama and Mississippi - the states hardest-hit by the hurricanes. But followup heavy rains in the Northeast also pummeled its sales.

Seventeen Wendy's restaurants remain closed because of hurricane damage, the company said.

"I've been in this business for a long time, and this is probably the most difficult conditions and changes" he's seen, Schuessler said.

Besides the weather and beef-related hits, Wendy's cited ongoing problems at its Baja Fresh Mexican fast-casual chain in lowering its earnings projection.

But on the conference call with analysts, Schuessler said, "We've made some very good progress" in turning Baja around. "We believe in the brand, and we're going to see it through."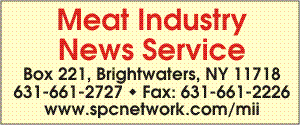 E-mail: sflanagan@sprintmail.com