040912 Kansas Excel Now Cargill
September 23, 2004

Wichita, KS - If you phone Fort Morgan's beef plant, and someone answers "Cargill Meat Solutions" instead of "Excel," don't worry. You dialed the right number.

Excel Corp. has changed its name to Cargill Meat Solutions Corp., reflecting two strategic initiatives of the parent company, Minneapolis-based Cargill.

"Several years ago, Cargill launched a program to be a global leader in nourishing people through food and agriculture," said Mike Chabot, general manager of the Fort Morgan plant. "As part of that effort, Cargill also unveiled its branding initiative, which is designed to elevate awareness of the Cargill name among our suppliers and customers."

Chabot said the name change is symbolic of the growth of Cargill's meat businesses. "It represents the effort of everyone in the organization and their commitment to quality, innovation and providing solutions like branded beef that help our customers succeed," he said. "That's where the word 'solutions' comes from in Cargill Meat Solutions."

He said the name change will be phased in over time. "This is a large undertaking and many things will be slowly converted," he said. Signs, in particular, will take time to convert.

For many within the Cargill organization, the name change isn't new. Cargill Meat Solutions has been the name the company has used as a go-to-market strategy with customers for more than a year. In August, the name was legally changed from Excel to Cargill Meat Solutions.

Cargill Meat Solutions has its headquarters in Wichita, Kan., where Excel had been based since 1941. Once strictly involved in only beef, the company has evolved over the years to include pork, processed meats and case-ready programs. Outside of Wichita, a total of 17 plants and offices have formally changed their names to Cargill Meat Solutions.

The Excel name isn't going away totally. It will still be used as a brand on some of the products produced by Cargill Meat Solutions. It just won't be used in the phone greeting at the plants.

Cargill is an international provider of food, agricultural and risk management products and services. Cargill employs 101,000 employees in 59 countries.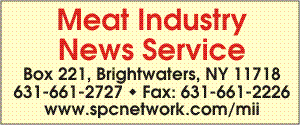 E-mail: sflanagan@sprintmail.com