040907 Tyson Signs Pact with EEOC
September 15, 2004

Washington, DC - Tyson Foods Inc. signed a mediation pact with the U.S. Equal Employment Opportunity Commission to informally resolve any future workplace disputes prior to an EEOC investigation or litigation.

The EEOC's National Universal Agreement to Mediate, or NUAM, will resolve workplace issues through an Alternative Dispute Resolution. The agreement allows either the EEOC or the company to opt out of mediation if either party believes a claim is inappropriate.

In a press release Wednesday, the commission said this is the 62nd agreement between the EEOC and a U.S. company.

Tyson Chairman John Tyson, who spoke at Wednesday's signing ceremony at EEOC headquarters, said this step will enable the company to mediate disputes and avoid costly litigation.

Under the NUAM, Tyson will designate a company representative to handle all inquiries and facilitate scheduling of EEOC mediation.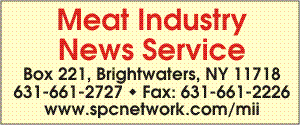 E-mail: sflanagan@sprintmail.com