040904 "Price Fatigue" Hurting Beef Sales-Tyson
September 11, 2004

Chicago - Tyson Foods Inc. said high beef prices may have consumers shifting to pork and chicken, but its beef segment should do well later this year.

"There is price fatigue on beef. Beef has gotten pretty high. The flip side of that is they move over to pork and they move over to chicken," John Tyson, president and chief executive, told Wall Street analysts during a presentation at the Prudential Back-to-School Consumer Conference.

Supermarket beef prices have been high much of the year because production is down about 10% and demand has been strong in part due to the popularity of high-protein diets.

In July, the average supermarket beef price compiled by the U.S. Bureau of Labor Statistics was $3.698 per lb, up 12% from a year ago, and close to the record high of $3.70 set in December 2003.

"When the customer moves their protein spending around we are in a position to capture that," said Tyson, whose company is the nation's largest chicken producer and a major pork producer.

The beef segment is the largest of Tyson's operations accounting for almost half of the company's $24.5 billion in fiscal year 2003 sales. Chicken accounted for 30%, pork 10%, and prepared foods 11%.

"We are very comfortable it will be a positive business for us," said Tyson of the beef. "We think there will be more cattle available starting at the end of December and in January."

This year's smaller beef production has been partially offset by a severe drop in exports after foreign buyers, including top buyer Japan, banned U.S. beef starting in December 2003 because of a U.S. case of mad cow disease.

The United States has been in talks with Japan to lift the ban, but Tyson said he does not expect that to happen until early next year. Before the bans, Japan took about a third of U.S. beef exports.

Also, hurting beef companies has been the United States' ban on imports of Canadian cattle. The ban has been in place since Canada's mad cow case in May 2003. Beef plants in the U.S. northwest had used Canada cattle.

"As for the supply of live cattle coming down from Canada into the U.S. we don't believe that issue will be addressed until after the election. At that time, we do believe that there will be some progress made," said Tyson.

During the presentation, the company repeated its earlier forecast that it will earn from $1.08 to $1.15 per share for fiscal year 2004.

In August, the company revised it earnings guidance down from $1.26 to $1.33 in part to grain hedging activities and to weak demand for beef and chicken. It had warned then that fourth quarter results would also be hurt by grain hedging.

"We have made adjustments in our hedging strategy and we will then look at our hedging strategies as we move into '05 business year," said Tyson.

Tyson shares were up 19 cents, or 1.15%, at $16.77 per share at the close on the New York Stock Exchange.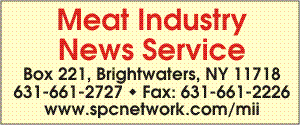 E-mail: sflanagan@sprintmail.com