040411 McDonald's CEO Got $2.1M Bonus For 2003
April 10, 2004

Washington - McDonald's Corp. Chairman and Chief Executive James R. Cantalupo received a $1.4 million salary and $2.1 million bonus for 2003, according to a proxy filed Thursday with the Securities and Exchange Commission.

Cantalupo has served as chairman and CEO since Jan. 1, 2003. His bonus reflected that financial targets were exceeded, the filing said.

The Oak Brook, Ill. company also granted Cantalupo an award of 400,000 stock options and 160,000 restricted stock units on March 18, 2003. The executive realized a value of $1.9 million from the exercise of options during the year.

Cantalupo's 2003 restricted stock awards are valued at $2.3 million, the filing said.

At the end of 2003, Cantalupo held 3.2 million options, valued at $6.1 million. He also held 1.3 million options, which hadn't vested.

Cantalupo acquired 416,000 shares from the exercise of options in 2003, the filing said.

McDonald's also said in the proxy that directors Donald Lubin and Robert Thurston will retire at the company's 2004 annual shareholder meeting, scheduled for May 20.

Shareholders of record as of March 22 are scheduled to elect five directors.

McDonald's has nominated Anne-Marie Slaughter as a director. Slaughter, who has been the Dean of the Woodrow Wilson School of Public and International Affairs at Princeton University for the past two years, will be an independent director if elected, the filing said.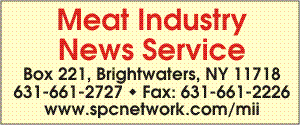 E-mail: sflanagan@sprintmail.com