040407 USDA: Can't Say When Japan Will Take Beef
April 6, 2004

Washington - The U.S. government cannot predict when Japan will begin accepting U.S. beef shipments it banned following the discovery of a case of mad cow disease in Washington state late last year, Agriculture Secretary Ann Veneman said.

"It's difficult at this point to predict when we will see a Japan market opened again," Veneman said in speech at the National Press Club.

Japan shut off imports of U.S. beef following the Dec. 23 announcement of the first U.S. case of mad cow disease, formally known as bovine spongiform encephalopathy. It was the No. 1 market for U.S. beef exports until the BSE case.

Dozens of other nations have also banned U.S. beef.

As a condition for taking U.S. beef, Japan wants the United States to test all slaughter cattle for mad cow.

"We have resisted each Japanese requirement ... because there is no scientifically valid basis for that," Veneman said.

She also declined to say when the United States might reopen its borders to imports of Canadian cattle.

Japan will not end its import ban before May unless the United States "implements the same measures as we do" to prevent mad cow disease," Japanese Agriculture Minister Yoshiyuki Kamei said in a letter to Veneman made public on Tuesday.

The letter said the two nations needed to reach a consensus on how to assure beef is safe from the brain- wasting disease.

But it did not repeat Japan's previous demand that all U.S. beef it imports be tested, and U.S. meat industry officials said that is an encouraging sign. But they added there has been no overt change in Japan's position.

American officials say 100% testing is unnecessary because BSE is found only in older animals.

They say U.S. beef is safe because animal scraps are banned in cattle feed and meat packers are required to keep the food supply free of brains, spinal cords and other central nervous system tissue -- which can carry mad cow disease -- which has come from cattle over 30 months of age.

Vice President Richard Cheney was scheduled to visit Japan in mid-April, and industry officials say the beef-ban issue will be discussed. The Bush administration has given high priority to restoring U.S. beef exports.

Last week, Veneman and U.S. Trade Representative Robert Zoellick said they were disappointed Japan was unwilling to submit the disagreement over testing and mad cow safeguards to the World Organization for Animal Health, known under its French abbreviation OIE.

Kamei's letter, dated April 2, declined the U.S. suggestion of a speedy OIE review.

"Unless the OIE rules are established so that Japan can also agree with them, it is difficult, and our public would not be convinced" by a special OIE ruling, he wrote.

USDA has yet to rule on a request by Creekstone Farms Premium Beef to independently test all its cattle for BSE as a step to assure overseas customers.

U.S. officials were expected to respond this week to questions raised by Japan over U.S. surveillance testing of cattle for BSE, new restrictions on use of animal parts in livestock feed, and details of procedures to ensure that "specified risk materials" are kept out of the food supply.

Scientists believe mad cow disease can be spread through consumption of tainted feed containing misshaped proteins called prions.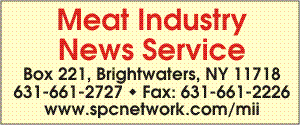 E-mail: sflanagan@sprintmail.com