040321 U.N: Meat Exports Damaged by Diseases
March 13, 2004

Twelve governments facing export bans due to the diseases could suffer losses up to $10 billion of the annual $33 billion trade this year if the measures are kept in place, the U.N. Food and Agriculture Organization said.

About 6 million tons of meat that normally would be exported are affected by these bans, the Rome- based agency said in a statement. Bans on beef imports from the United States and Canada due to mad-cow fears are cutting seriously into their annual exports of 1.6 million tons worth $4 billion.

These countries, along with 10 Asian governments, have also reported bird flu outbreaks, the agency said. They account for 4 million tons, or 50 percent, of the world's poultry exports, it said.

Authorities in Asia have culled some 100 million birds to prevent further spread of avian flu. A milder strain of the disease has broken out in the United States and Canada.

The first case of mad cow disease was found in the United States in December, and a single case in Canada in May. Foreign bans on U.S. beef have cost the country about 90 percent of its export sales, which had accounted for about 10 percent of total U.S. production.

The food agency also noted that demand for pork is rising. In Japan, pork prices increased by 40 percent last month after imports of U.S. beef and Asian poultry were banned.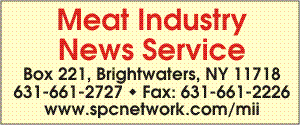 E-mail: sflanagan@sprintmail.com