040319 Canadian Meat May Have Had Human Remains
March 13, 2004

Pickton raised and slaughtered pigs at the Port Coquitlam farm as a part-time occupation until his arrest at the property in February 2002, and police believe he gave or sold processed meat products to friends and acquaintances.

Pickton, 53, is awaiting trial in the killings of at least 22 of more than 60 missing Vancouver prostitutes who disappeared over the past decade and are feared to have been murdered at the dilapidated farm 20 miles east of Vancouver.

"Given the state of the farm, and what we know about the investigation, we cannot rule out the possibility that cross-contamination may have occurred," B.C. Provincial Health Officer Perry Kendall told reporters in Victoria.

"Cross-contamination could mean that human remains did get into or contaminate some of the pork meat," Kendall said.

Pickton's farm and pig slaughtering operation was not officially licensed, and Kendal said there was "no evidence any of the meat" went into the commercial trade."

Kendall said he issued the warning based on information received from the Royal Canadian Mounted Police, and he did not know how much meat might have been distributed before Pickton was arrested.

Pickton is officially charged with 15 murders but prosecutors have said seven more counts are waiting to be filed. Tests have identified the DNA of nine more women, but not yet resulted in charges.

The victims were among more than 60 drug-addicted prostitutes who disappeared from Vancouver's poor Downtown Eastside neighborhood.

Pickton, in custody since his arrest, is the only person charged in the case. He has not entered a plea to the criminal charges but denied wrongdoing in a related civil lawsuit.

Officials are not expected to start Pickton's criminal trial until late this year, when laboratories have tested thousands of pieces of evidence collected at the farm for human DNA.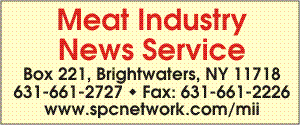 E-mail: sflanagan@sprintmail.com