040313 Protein Diets & Flavor Drives Bacon Demand
March 6, 2004

Chicago - With the popularity of high-protein diets and the quest for fast-food flavor, Americans are bringing home the bacon more than ever before.

The once-maligned meat product is being served on fast-food hamburgers, sprinkled on salads, and is back on breakfast tables after being replaced years ago by bagels, croissants, and doughnuts.

The surge in bacon has been good news for U.S. hog and pork producers. Prices for pork bellies, the cut of pork that is sliced into bacon, are at record highs for this time of year and are largely responsible for the attractive prices producers are receiving for hogs.

"We have a lot of people on these high protein diets who are not only eating bacon with their sandwiches, but we also have an increase in bacon consumption at breakfast time," said Ron Plain, agricultural economist at the University of Missouri.

"We've had a strong bacon market for several years as it seems bacon has become very popular as a condiment on turkey sandwiches and hamburgers and stuff," he said.

Consumers following the Atkins diet, which advocates high protein intake, are switching to meat from high carbohydrate breads and pastries. This has increased demand for bacon, which had already reestablished itself as a consumer favorite.

THE FALL AND RISE

Demand for bacon waned in the 1970s when U.S. consumers began avoiding fats as well as meats cured with nitrates.

But that changed in the 1980s with the invention of the bacon burger, and the fast food industry became the engine that drove demand to the levels seen today.

Retail prices for bacon in the 1970's ranged from 80 cents to $1.29 per lb. By the 1980's it was going for $3.00 a lb or more, and current retail prices range as high as $5.50 a lb and average over $3.00 a lb nationally.

Wholesale prices went from 35 cents a lb in the 1970's to as much as $1.00 or more a lb in the past couple of years.

The University of Missouri's Plain noted that a lot of Americans who had been eating pastries for breakfast are shifting back to the traditional meal of bacon and eggs.

"Dr. Atkins continues to be the best friend U.S. livestock producers have," Plain said. "We have very strong and growing meat demand creating very nice prices despite, in the case of pork, a huge supply."

The demand for bacon has fueled a steep rise in prices for pork bellies, which are hovering near $1.00 per lb, the highest level ever for this time of year, economists said.

"The monthly average wholesale price (for February) last year was the highest ever at 79.5 cents per lb. This year the average could be in the 90's," Plain said.

Even higher prices are likely when bacon demand peaks this summer, the most popular time of year for BLTs, or bacon-lettuce-and-tomato sandwiches.

"I can see (pork bellies) being $1.55 to $1.60 (per lb) when we get into the summer," said Charlie Andrew, managing director for Chicago- based AAA Meats. "The demand for bacon is just phenomenal."

Pork belly prices averaged $1.02 last July.

Bacon prices should remain high because supplies will likely remain tight. The rapid use of pork bellies now may mean fewer supplies this summer when bacon demand is expected to peak.

Pork belly prices are also getting a boost from strong demand for pork in general, particularly among exporters.

More pork is being sought by foreign buyers who have banned U.S. beef and poultry due to animal diseases including mad cow and bird flu. Japan, the top overseas market for U.S. meat, will need a lot of pork because it is not importing any beef from the U.S. or Canada, economists said.

"Last year was our 12th consecutive record year for pork exports and this year is going to probably be our 13th," Plain said.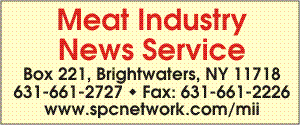 E-mail: sflanagan@sprintmail.com