040308 Mexico Lifts Ban on Many U.S. Beef Products
March 5, 2004

Washington - Mexico lifted part of its ban on imports of beef from the United States, easing restrictions imposed after a case of mad cow disease was discovered in Washington State in December.

Mexico, the second-largest market for American beef exports, has been under strong pressure from the United States to reconsider its ban.

Senior Bush administration officials had argued that several new safety requirements imposed in December would prevent the spread of bovine spongiform encephalopathy, or mad cow disease, which can be fatal to humans who eat beef from cattle that are infected with it.

The announcement was made in advance of a meeting this weekend between President Bush and President Vicente Fox of Mexico at Mr. Bush's ranch in Crawford, Tex.

Mexico ended its ban on many beef products imported from the United States, like boneless cuts from animals under 30 months old and veal from animals under nine months old. Mexico held firm, however, on its ban of live calves and cattle from the United States.

The announcement by Mexico was seen as an important first step in restoring the $3.6 billion export market for beef, veal and variety meats that disappeared after the discovery of the case of mad cow disease

"This sends a very good signal when officials of our second-largest beef market have made the determination that our beef is safe - that it is now time to resume trade," said J. B. Penn, the under secretary of agriculture for farm and foreign agricultural services.

The lifting of the ban pushed cattle futures prices to a nine-week high in Chicago, according to Bloomberg News.

Japan, the biggest market, has kept its ban firmly in place and has told the United States that it will have to improve its testing of cattle before it will allow American beef to be imported again.

The European Union never imposed such restrictions, in part because it already has a ban on American beef treated with growth hormones.

After waging their own battles with mad cow disease, Europe and Japan require extensive testing of cattle herds, not the small-sample risk assessment used in the United States. Until now, the United States has not required or kept records tracing specific animals from birth to market.

The Agriculture Department and Congress are now debating how to create a national database for tracing animals.

One question is whether participation in a database system should be voluntary or mandatory.

Senator Charles E. Grassley, Republican of Iowa and chairman of the Finance Committee, said on Thursday that such a system should be mandatory, pointing out that even reluctant livestock producers understand that a "mandatory identification system is necessary to build consumer confidence."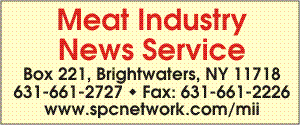 E-mail: sflanagan@sprintmail.com