040301 Smithfield Posts Sharply Higher Profit
February 24, 2004

Chicago - Smithfield Foods Inc., the nation's largest pork company and a major beef producer, on Tuesday reported sharply higher quarterly earnings, as results from an acquisition more than offset costs associated with the first U.S. case of mad cow disease.

In October 2003, Smithfield bought the hog and pork operations of Farmland Industries, which at the time was the nation's sixth-largest pork producer. That came just before the United States discovered its first case of mad cow disease, which virtually shut down U.S. beef exports.

"Farmland is operating better than anybody at Smithfield Foods had imagined," Smithfield Chairman Joseph Luter said during a conference call with analysts.

On Tuesday, the Smithfield, Virginia-based company said it earned $46.1 million, or 41 cents per share, in the third quarter ended Feb. 1, compared with $5.3 million, or 5 cents a share, in the year-earlier period.

Wall Street estimates had averaged 44 cents per share and ranged from 30 to 51 cents per share, according to Reuters Research, a unit of Reuters Group Plc.

Excluding one-time charges -- including $11 million in costs connected with the case of mad cow disease -- the results exceeded estimates, said Andrew Wolf, consumer analyst with BB&T Capital Markets.

Smithfield said the $11 million covered a reduction in the value of its beef inventory and lower productivity in its beef operations.

"To me it was a little stronger-than-expected quarter," said Wolf, who maintains a buy rating on the shares. Wolf does not own Smithfield stock, but his company may seek banking business with the company.

Shares of Smithfield were down 9 cents to $24.36 in afternoon trading. Analysts said the decline appeared to be due to Mexico on Tuesday joining the list of countries that have banned U.S. poultry because of concerns about recent U.S. cases of avian flu.

Smithfield does not produce chicken, but a ban on U.S. exports of poultry means more competing meat to be sold in the United States, which could hurt prices for beef and pork, analysts said.

"While we have been and remain positive on SFD (Smithfield) longer term, we remain cautious in the near term due to our concerns regarding the potential impact of excessive overall protein supplies given bans on exports of U.S. beef and increasingly U.S. chicken," David Nelson, Credit Suisse First Boston analyst, said in a research report.

Smithfield's third-quarter sales increased to $2.7 billion from $1.81 billion a year before. Most of that increase was in the pork segment, which had sales of $1.84 billion compared with $1.07 billion a year earlier.

The hog operation, which sells about 15 million hogs a year, lost $7.8 million for the quarter, compared with a year-earlier loss of $64 million. However, higher hog prices has that unit making money in February, said Luter.

Looking ahead, Luter said the company should do better in fiscal 2005. It will increase bacon production this year and continue its move to producing more higher-margin processed meats.

In December, the United States reported a single cow in Washington state had tested positive for mad cow disease, or bovine spongiform encephalopathy (BSE (news - web sites)). Major foreign buyers immediately banned U.S. beef, and beef prices fell.

At Smithfield, beef operating profits fell to $7.4 million from $18.0 million a year before.

"We are very pleased with our third-quarter results, particularly given the downturn in beef profits following the BSE incident in late December," Luter said in a statement.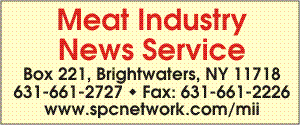 E-mail: sflanagan@sprintmail.com