030930 Popeyes Brings Celebrity Chef to Atlanta
September 30, 2003

Atlanta - Popeyes Chicken & Biscuits, a division of AFC Enterprises, Inc. and the world's second largest quick-service chicken concept, is proud to present six of the finest chefs from Louisiana who will prepare an elegant representation of Louisiana cuisine in an informative and entertaining dinner event. The Popeyes Chicken & Biscuits Fourth Annual Culinary Celebration Benefit is Sunday, October 19, from 6 p.m. to 9 p.m. at the King Plow Arts Center in Atlanta, Georgia. Featured chefs and restaurateurs will be Paul Prudhomme, John Folse, Leah Chase, Randy Cheramie, Gary Darling and Mary Sonnier. Host and hostess for the evening will be Popeyes Executive Chef Billy Jacob and cookbook author Marcelle Bienvenu. Tickets are $275 per person and can be reserved by calling the Popeyes corporate office at 404-459-4672.

"Popeyes has established traditions that reflect the spirit and spice of our Louisiana Cajun heritage," says Jacob. "One of our more recent additions to those heritage traditions is the Popeyes Culinary Celebration Benefit - a very special annual event benefiting the Chef John Folse Culinary Institute at Nicholls State University in Thibodaux, Louisiana."

In addition, this year the funds raised will also benefit charities that each of the participating guest chefs select.

Propelling the distinctive cuisine of his native Louisiana into the international spotlight, Paul Prudhomme is the owner and chef of New Orleans' famous K-Paul's Louisiana Kitchen and author of numerous best-selling cookbooks. As a result of endless requests for his seasoning secrets, Prudhomme created his own line of all natural herbs and spices called Chef Paul Prudhomme's Magic Seasoning Blends.

Known as Louisiana's culinary ambassador to the world, John Folse has poured his passion for Louisiana culture and cuisine into his restaurant, Lafitte's Landing in Donaldsonville, Louisiana, and his PBS program, "A Taste of Louisiana." In addition, the Chef John Folse Culinary Institute at Nicholls State University is dedicated to the preservation of Louisiana's rich culinary heritage while fostering Louisiana's role as a culinary leader.

For the past 53 years, Leah Chase has been the owner and chef of Dooky Chase restaurant - a New Orleans Creole landmark. She has cooked countless servings of jambalaya, Creole file gumbo and shrimp. A cookbook author, Chase has appeared on cooking shows with nationally recognized chefs including Julia Child, Graham Kerr and John Folse.

Randy Cheramie was the chef and owner of the well-known Randolph's Restaurant in Golden Meadow, Louisiana, for 20 of its nearly 60-year history. He is currently a chef and lecturer at the Chef John Folse Culinary Institute at Nicholls State University.

Gary Darling, co-founder of Semolina International Pasta Restaurant chain and Zea Rotisserie Grill in New Orleans, has lived in Louisiana for over 20 years. He moved to Cajun country after extensive travel honing his talents in Europe, Mexico and the U.S. and was named New Orleans' Chef of the Year in 1983.

Mary Sonnier met her husband and business partner while working as an apprentice under Paul Prudhomme at K-Paul's Louisiana Kitchen. They fell in love with the restaurant business as well as each other and opened Gabrielle restaurant in New Orleans, recognized nationally by Bon Appetit, Southern Living and Gourmet magazines, to share their interpretation of contemporary Creole cuisine.

The Chef John Folse Culinary Institute is an academic college of Nicholls State University. Nestled deep in the heart of Cajun Country, Nicholls State is located in Thibodaux, Louisiana, 50 miles southwest of New Orleans. The area is rich in cultural heritage and is known for its hospitality and fine cuisine.

Popeyes is a leader in the New Orleans segment of the foodservice industry and is the world's second- largest quick-service chicken concept. Founded in 1972 in New Orleans, Popeyes has more than 1,770 locations as of September 7, 2003, in 42 states, the District of Columbia, Puerto Rico and 20 other countries.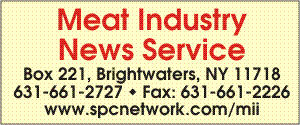 E-mail: sflanagan@sprintmail.com