030927 Congress May Ease Russia Trade Rules
September 30, 2003

Washington - Russia's decision to ease quotas on U.S. chicken, pork and beef could help persuade Congress to end 30 years of trade restrictions, U.S. trade officials say.

Russia has been trying to get the United States to permanently lift the 1974 Jackson-Vanik trade restrictions imposed in response to the Soviet Union's treatment of Jewish dissidents.

"The agreement is very important because it will remove three of the most important stumbling blocks for Congress," U.S. Trade Representative Robert Zoellick said Monday. "For removing Jackson-Vanik, we needed to remove this problem."

As part of the agreement, Russia will allow the United States to annually ship about $700 million in poultry products, or roughly 1 million tons. That's the same as in 2001 but 25% more than would have been allowed under Russian quotas announced in April.

U.S. beef and pork shipments to Russia also will increase, but Zoellick said the details have yet to be worked out. Last spring, Russia capped beef imports from all sources at 420,000 metric tons and pork imports at 450,000 tons.

Russia's new quotas will guarantee U.S. exporters a share of the market at low tariffs. Once the amount is reached, tariffs will rise, Zoellick said.

"This agreement ensures American poultry, pork and beef exports to Russia at historical levels and adds room to grow," he said.

He added that the compromise could help Russia gain admission to the World Trade Organization.

Last year, the United States shipped 71,490 tons of beef to Russia — worth about $59.6 million. Pork exports totaled 15,893 tons, worth about $21.5 million.

Russia is the single largest foreign market for U.S. poultry, the fifth largest foreign purchaser of American beef and the seventh largest buyer of U.S. pork.

Jon Caspers, president of the National Pork Producers Council, said problems with poultry trade had led exporters to stuff chicken into freezers normally filled with pork.

"The Russian restrictions backed up the poultry supply in the U.S. and brought down the prices of U.S. pork and live hogs," he said.

Agricultural trade with Russia has been sputtering. A year ago Russian inspectors found a dozen American poultry plants in violation of their food safety standards and refused to accept any products from them. U.S. officials then began negotiating language that would give the American plants more flexibility in meeting the Russian standards.

Russian officials this summer began visits to about 350 American poultry plants. All but 50 or so have now been certified to export, said Toby Moore, a spokesman for the USA Poultry and Egg Export Council.

"The Russians are going to, we think, maybe in the next month or two inspect those remaining plants," Moore said. Many of the discrepancies involve problems that can be resolved easily, such as putting lids on trash cans or covering drains, he said.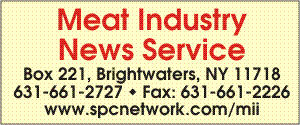 E-mail: sflanagan@sprintmail.com