030925 How To Guide for Thanksgiving
September 30, 2003

Washington - For home chefs looking for holiday menu inspiration and advice, the National Turkey Federation's (NTF) Web site, www.eatturkey.com, offers its 2003 How To Guide for Thanksgiving. Launched today, the guide details everything from purchasing to preparation to pointers for leftovers. It is designed to serve as a comprehensive instructional and recipe manual for the holidays.

"With 99% of Americans enjoying turkey on Thanksgiving, both new and experienced home cooks look for help with their menus," says Sherrie Rosenblatt, director of public relations for the NTF. "At www.eatturkey.com, novices can find step-by-step information on preparing the traditional Thanksgiving feast while 'foodies' can venture further into rubs and marinades or regional recipes like Southwestern Turkey with Chilaca Chiles Paste and Louisiana Fried Turkey Breast."

To access the guide, simply log onto www.eatturkey.com and click on the 2003 How To Guide for Thanksgiving. Here the site will provide links to tips on purchasing, storing, thawing, pre-cooking, oven preparation, grilling, deep-frying, smoking and carving, plus recipes for the whole bird and the turkey breast.

Adventurous cooks can view professional demonstrations to see the latest turkey trends in restaurants. Showcased in celebrity chef demonstrations are Boston's Peter McCarthy with Grilled Slices of Smoked Turkey, New York's Tim Kelley with Two-Way Turkey and Dallas' Oona Settembre with Smoked Turkey Chowder and Southwest Vegetables. Wisconsin's Joseph Worden also shares his Bacon Wrapped Turkey Tenderloins with Port Sauce and South Carolina's Ken Vedrinski created his Tian of Turkey Breast with Crusty Sweetbreads.

Beyond the bird, there are dressings and stuffing, gravies, side dishes, desserts and leftovers. The guide addresses all of these topics with tips for success, food safety and storage recommendations, and a broad range of recipes.

Using the guide, home cooks might serve the following menu: Southern Roast Turkey with Bourbon Peach Glaze, Minnesota Wild Rice Dressing, Guilt- Free Turkey Gravy, Boursin Mashed Potatoes, Braised Vegetable Melange, Cranberry Chutney and Chocolate-Pumpkin Cake with Broiled Coconut Pecan Frosting.

About the National Turkey Federation

The National Turkey Federation is the advocate for all segments of the U.S. turkey industry. Its award- winning web site, www.eatturkey.com, offers current turkey trends, professional chef cooking demonstrations and a searchable database of more than 700 recipes. Consumers can go to www.eatturkey.com to sign up for the Recipe E-mail program to register to receive unique turkey ideas that add flair to holidays and special occasions year-round.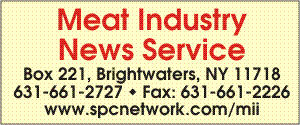 E-mail: sflanagan@sprintmail.com