030922 New Continuous Grinding And Blending System
September 30, 2003

Lisle, IL - A revolutionary technology for processing fresh boneless meat is ready for commercial application, promising to reduce costs, control lean content and improve food safety. The system will be introduced at the AMI/WorldWide Food Expo in October.

SafeFresh Technologies, LLC has developed a method for a continuous grinding and blending system, by which two graded streams of boneless meat, one high fat and one high lean, are transferred and blended through a temperature and atmosphere controlled process. After pre-grinding, each stream is transferred into an enclosed pre-blender, and continuously measured to determine the lean content. The streams are then automatically proportioned and combined in a continuous blender to achieve a precise lean:fat ratio. The blended stream, still under controlled atmosphere, is transferred into enclosed staging bins directly coupled with patty formers, portioning equipment or chub stuffing equipment.

"The transition from a batch process to a precision-controlled, continuous process is a major advantage for meat processors" says Terry Schuster, SafeFresh Vice President. "The processor is able to realize significant value through reduced lean giveaway, improved yield, and lower labor and operating costs. In addition, the enclosed process eliminates the presence of oxygen, extending shelf life and eradicating any vectors of contamination."

The monetary advantages of the technology are significant to meat processors as SafeFresh has demonstrated a quantifiable net cost savings of $.02/lb. This savings can potentially double the average profit margin of many plants in the competitive ground beef industry.

SafeFresh Technologies, LLC is a technology development company providing the food industry with highly advanced, integrated processing, packaging and food safety systems. SafeFresh Technologies and its partner, BOC, have formed the SafeFresh Alliance - an alliance of industry leaders working to deliver revolutionary technologies to the meat industry. SafeFresh is located in Lisle, Illinois. The company can be contacted at 630-515-2557.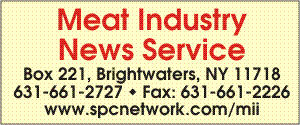 E-mail: sflanagan@sprintmail.com