030916 Burger King Seeing Overall Sales Growth
September 30, 2003

Miami, FL - Some Burger King restaurants are still struggling with weak sales despite efforts to lure more customers to the No. 2 fast-food chain, but overall sales have started to increase, Burger King Corp. CEO Brad Blum said.

Some weaker franchisees reported short spikes in sales over the summer, but few saw those increases last, Blum said in a phone interview. He declined to give specific numbers on the improvement, but said he believed "things are moving in the right direction.

"We are really focused on having all of our franchises experience growth on a consistent basis," said Blum, who took over the Miami-based company when it changed owners last December. "We do have a distance to travel here to reach quarter-to-quarter growth."

The entire fast-food industry, including market leader McDonald's Corp., has struggled to keep consumers loyal as they look to higher-quality, healthier food. To battle that, Burger King and McDonald's have introduced lowfat sandwiches and salads that the companies also hope customers will find tasty.

Blum also said Nish Kankiwala was appointed as president of Burger King International. The former PepsiCo Beverages International president will try to boost sales in existing markets and look at expanding into new countries. Blum and Kankiwala declined to give specifics.

Gregory Thomas, a restaurant analyst for McTevia & Associates in Detroit, said Burger King "continues to struggle with its image."

"It finds itself between McDonald's on the high side and Wendy's on the low side," he said. "Wendy's is often seen as being more innovative. They tend to be first as coming out with new products. McDonald's is just seen as a Goliath people are more familiar with."

Burger King "can't seem to come up with anything original," he said, citing its new chicken sandwich.

"I think Burger King is on the ropes ... and it's going to take a lot more than chicken sandwiches to re- establish their market share."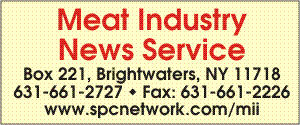 E-mail: sflanagan@sprintmail.com