030907 Tyson Profits Higher From Beef Bans
September 24, 2003

Springdale, AR - Tyson Foods Inc., the world's largest meat producer, increased its quarterly and full- year earnings projections on Monday, citing strong demand for its beef since Canadian exports were banned in many nations because of a mad cow disease scare.

The company is anticipating quarterly earnings of 35 cents to 40 cents per share, compared with 30 cents a share in the same period of 2002. Analysts surveyed by Thomson First Call had predicted quarterly earnings of 23 cents per share.

Tyson Foods also estimated earnings in its next fiscal year will range from 90 cents to $1.20 per share.

The company's fourth quarter ends Saturday.

In the third quarter, Springdale, Ark.-based Tyson posted earnings of 23 cents a share, a 26% drop from the same period a year earlier. Company executives said the high cost of raw materials, a strike in Wisconsin and the cost of introducing new products were partly to blame.

John Tyson, chairman and chief executive, said the fourth-quarter earnings will improve primarily because the company was having an outstanding three months in its beef segment.

"The performance is being driven by strong domestic and international demand for U.S. beef against a reduced supply environment, resulting primarily from the ban on Canadian beef imports for most of the quarter," Tyson said in a statement.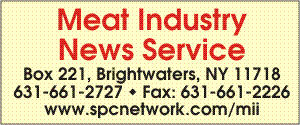 E-mail: sflanagan@sprintmail.com