030902 Maple Leaf to Swallow Schneider
September 24, 2003

Canada's biggest food processor, Maple Leaf Food Inc., said it is buying smaller rival Schneider Corp. for $378 million from Smithfield Foods Inc. of Virginia.

The rival Canadian meat processors were involved in a nasty takeover battle in the late 1990s but said Thursday, Sept. 25, they are merging to create a food giant better able to compete globally.

Toronto-based Maple Leaf, which is best-known in Canada for its hot dogs and cold cuts, lost a hostile bid for Schneiders, Canada's eighth-largest food company, to Smithfield in 1998.

On Thursday, during a conference call with reporters, Maple Leaf CEO Michael McCain sidestepped questions about the earlier hostilities but said that all legal issues between the two companies have been resolved.

Maple Leaf was among several shareholders that took Kitchener, Ontario-based Schneiders to court in 1998, after Schneiders' founding family — a majority shareholder — accepted a C$25 ($18.52) a share offer from white knight Smithfield and signed lockup agreements with the Smithfield, Va.-based company.

Maple Leaf had put Schneiders in play when it originally offered C$19 a share for its competitor. It later sweetened the bid to C$22. But Smithfield, the largest pork producer in the U.S., made a friendly, C$25 a share bid, leading Maple Leaf to counter with a C$29 a share offer. Schneiders rejected the higher bid, saying it was bound by its lockup agreements with Smithfield.

At the time, Schneiders said the Smithfield deal was a good strategic fit that enhanced its pork operations in Manitoba, offered distribution synergies and opened new markets.

Investors, however, claimed that Schneiders had violated shareholders' rights by accepting the lower bid. An Ontario court, in an important precedent, dismissed the claim, ruling that Schneiders' board had obtained fair value and was not obligated to turn the bidding process into an auction.

Smithfield acquired 63% of Schneiders in 1998 in a share exchange valued at $70 million, plus the assumption of $57 million in debt. In November 2001 Smithfield completed the acquisition in a share swap valued at $51 million.

Analyst David Newman at National Bank Financial said Thursday that Maple Leaf and Schneiders have made up in the past few years and had even negotiated an earlier asset deal under which Maple Leaf acquired two of Schneiders' Manitoba plants.

Newman said Thursday's friendly deal likely came together after Smithfield's CEO, Joe Luter, recognized a preference for the U.S. market and pinpointed Maple Leaf as the obvious buyer for Schneiders, which is wholly owned.

"I think his view was that the Canadian market was an export-dominant one, and he didn't really like the volatility that went with that," Newman said. "Smithfield probably, over time, felt that it wasn't really where they wanted to focus."

Luter said in a statement Thursday that although Schneiders has consistently contributed to the company's revenue, Maple Leaf is a more logical owner because the two Canadian processors have greater synergies.

"The sale is an attractive opportunity for Smithfield, and we believe that we are receiving full value for these assets," Luter said in the statement.

The $378 million price tag includes the assumption of $75 million of Schneiders' debt.

Maple Leaf is paying 9 times Schneiders' Ebitda for fiscal 2003, which Newman said is "palatable" for the Toronto processor. He expects large synergies from the deal, which will reduce the multiple considerably.

A Maple Leaf spokesman said Thursday it is too soon to be specific about synergies, but the company said on its Web site that it expects the deal will boost earnings in 2004.

Maple Leaf's legal adviser on the offer is Osler, Hoskin & Harcourt LLP, the same firm that provided counsel on its 1997 offer for Schneiders. Donald Ross at Osler led a team that included Kevin Ackhurst, G. Paolo Berard, Julie Colden, Joseph Cosentino, Donald Gilchrist, J. Timothy Kennish and David Tetreault.

Maple Leaf did not an use outside financial adviser. The company's CFO, Tom Muir, was reportedly the architect of the 1997 bid and, along with a team of other in-house executives, negotiated Thursday's deal.

A Smithfield spokesman said the company does not reveal its advisers.

Borden Ladner Gervais LLP and McCarthy Tétrault LLP had advised Smithfield on the Schneiders takeover.

Nesbitt Burns Inc. and Goodman Phillips & Vineberg — now Davies Ward Phillips & Vineberg LLP — advised Schneiders' board on that deal.

Thursday's merger brings together two of Canada's best-known makers of hot dogs, bacon and sausages. Maple Leaf and Schneiders products sit side by side in most Canadian grocery stores, and both long- standing brands are as familiar in Canada as the Oscar Mayer brand is in the U.S.

Schneiders, which has more than 5,000 employees, was founded in 1890 by John Metz Schneider, who began making sausages in his home. Schneiders reported annual sales of C$1.24 billion and earnings of C$54 million for the year ended April 27.

Maple Leaf was formed in 1991 through a merger of Maple Leaf Mills Ltd. and meat processor Canada Packers Inc. In 1995 McCain Capital Corp. and the Ontario Teachers' Pension Plan acquired a controlling interest in the company from Hillsdown Holdings plc of the U.K.

Maple Leaf owns almost 85% of Canada Bread Co. Ltd. and employs about 15,000 workers in Canada, the U.S., Europe and Asia.

The Ontario Teachers' Pension Plan owns almost 40% of Maple Leaf, while a branch of Canada's prominent food-sector family, the McCains of New Brunswick, owns more than 30%.

The deal hinges on approval by Canada's competition watchdog but is expected to close by the end of the year.

Maple Leaf said it is funding the deal with debt and will consider issuing between C$100 million and C$200 million in treasury shares over the next few months.

The company has also secured a commitment from the Ontario Teachers' Pension Plan to buy as much as C$150 million of the treasury shares within 12 months of the closing date.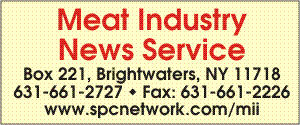 E-mail: sflanagan@sprintmail.com