030901 ConAgra Foods Withdraws Takeover Provision
September 24, 2003

Omaha, NE - Rejecting management recommendations, ConAgra Foods shareholders voted to have the company withdraw its "poison pill" provision against hostile takeovers.

The nonbinding proposal would require ConAgra's board to hold a shareholder vote on any new poison pill provision. Chairman and chief executive Bruce Rohde said the company's board would examine the measure "objectively" over the next year.

Currently, the nation's second-largest food company can fend off unwelcome suitors or improve its bargaining position by issuing new shares to dramatically boost the cost of a potential acquisition.

The company argued that the board needs the ability to evaluate any potential offers and develop alternatives to maximize stockholder value.

The practical effect of withdrawing the "poison pill" provision may be negligible because people intent on takeovers can file lawsuits against boards of directors accusing them of being arbitrary and capricious if they appear to be turning down fair offers, Rohde said.

Shareholders also defeated two other proposals management opposed. One related to a mandated study of the company's use of genetically modified ingredients; the other would have prohibited vesting stock options unless the stock price outperforms the S&P Packaged Foods index by 1%.

About 1,700 shareholders attended the meeting. ConAgra's stock closed Thursday at $21.34, down 20 cents on the New York Stock Exchange.

Under Rohde since 1997, ConAgra has been moving away from its roots in agriculture and into a packaged foods company.

Since last September, ConAgra has sold its fresh beef and pork divisions and its canned seafood and cheese holdings. It plans to close on the sale of its fresh chicken businesses in the next few months.

At the same time, sales have dropped from $25 billion in 2002 to $19 billion in the last fiscal year. Net income dropped to $775 million from $783 million, while per share earnings dropped 1 cent, to $1.46 from $1.47.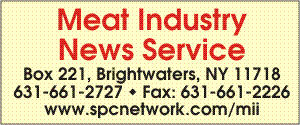 E-mail: sflanagan@sprintmail.com