030732 Senators Aim to Save Meat Labeling Law
July 17, 2003

Washington - Senators from both parties representing the nation's beef-producing heartland said Tuesday they have the votes to preserve a labeling law that next year will require hamburger and other meats to include the country of origin on their packaging.

"It will not be lost in the Senate," said Sen. Conrad Burns, R-Mont., responding to a House vote Monday that would prevent the Agriculture Department from spending any money on meeting a September 2004 deadline for having the labels in place on meat products in grocery stores.

A coalition of grocers, packinghouses and large livestock operations has been trying to scuttle the labeling program ever since it was included the 2002 Farm Bill. They succeeded Monday on a 208-193 vote in the House while that body was considering a broader $17 billion spending bill for the Agriculture Department and Food and Drug Administration.

But giving consumers a clear choice between domestic and foreign meat products is much more popular in the Senate, where the labeling requirement has the support of powerful farm state lawmakers like Democratic Leader Tom Daschle of South Dakota and Republican Senate Finance Committee Chairman Charles Grassley of Iowa.

A Senate appropriations subcommittee planned to put together its own version of the USDA-FDA spending bill later Tuesday.

"It would be completely irresponsible to reverse course and kill country-of-origin labeling," said Daschle. "The recent mad cow scare in Canada is one more reminder that the new labeling law can serve as an important marketing and informational tool."

Rep. Dennis Rehberg, R-Mont., sought an amendment to protect the labeling law, which was enacted as part of the farm bill last year, arguing it would help U.S. farmers sell meat to American consumers.

"We at the local level, us small guys, don't control the marketing. We need this avenue," said Rehberg, who raises cashmere goats and a small herd of cattle. "At a time when much of American agriculture is flat on its back, we need the opportunity to say, 'America matters to us in agriculture, America matters to the consumer'."

The House rejected his proposal on a 208-193 vote.

Of the beef that Americans consume, the Agriculture Department says 11% -- or $2.2 billion -- is imported, not counting life animals traded with Mexico and Canada.

U.S.-consumed pork includes 5%, or $633 million worth, that is imported. Thirty-six percent, or $207 million, of the lamb that Americans eat is imported.

Ever since the labeling requirements were passed last year, the food industry has pushed for their repeal. The labels are to become mandatory as of September 2004.

Rep. Henry Bonilla, R-Texas, said consumers will end up paying more if the rule goes through.

The effort to kill the labeling has the support of livestock groups like the National Cattlemen's Beef Association and the National Pork Producers Council. Those supporting the labeling include the American Farm Bureau and the National Farmers Union.

The bill approved Monday provides $872 million less than the 2003 budget did for running the Agriculture Department and the Food and Drug Administration. It also would omit $1 million that President Bush sought to pay for Agriculture Department audits of the nation's top four beef packers: Tyson Foods Inc., which owns IBP; Cargill; Swift & Co.; and Farmland Meats.

Also, it would devote $4.6 billion, $181 million less than Bush sought, for a nutrition program that feeds 7.6 million low-income pregnant and breast-feeding women and their children. The bill would provide $4.7 billion to improve rural electric and telephone lines, $911 million less than this year, and $3.39 billion for farm credit loans, $551 million below this year.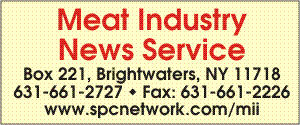 E-mail: sflanagan@sprintmail.com