030723 Meat Inspections at Borders Drop
July 10, 2003

Washington - Federal meat inspectors are testing less imported meat at the borders, according to reports by the Agriculture Department.

Inspectors tested 6% of the 969 million pounds of meat and poultry products imported into the United States from October to the end of December, department records show. In the previous quarter, inspectors tested 18% of the 1.05 billion pounds of imported meat.

Last fall, the agency announced it was improving its inspection regime amid concerns that terrorists could attack the food supply.

The new system replaced random tests with targeted tests, Elsa Murano, head of the department's Food Safety and Inspection Service, said Thursday. Inspectors now look out for products that are likelier to have undergone tampering or to be carrying a disease, like precooked meats.

"That's why when you look at figures, you think to yourself, certainly something's changed," she said.

Carol Tucker Foreman of the Consumer Federation of America's Food Policy Institute said imported meat inspections should not have dropped, particularly at a time when the government should be concerned with security.

"This is an unusual time to do anything that results in less meat being inspected," she said.

Border inspectors visually examine all of the meat that comes into the country, but they test only portions of it.

Murano said that the new system involves more tests for bacteria like E. coli that could cause food poisoning and for toxins possibly planted by terrorists. She declined to specify the toxins.

She also said that the 146 foreign meat plants exporting to the United States are inspected by U.S. officials to ensure that their safety standards are equivalent to those required of American meatpackers.

Rep. Rosa DeLauro, D-Conn., a member of the House Appropriations Committee, said she believes Congress should look to improve funding to hire more border inspectors and increase inspections.

"We should not be cutting back on inspections at this time," she said.

Seventy-five inspectors check meat and poultry products at the border.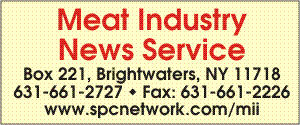 E-mail: sflanagan@sprintmail.com