030711 E. Coli Connected to Latest Meat Recall
July 5, 2003

St. Paul, MN - People recently sickened by E. coli bacteria in Minnesota, Michigan and Kansas likely contracted it from frozen raw beef products involved in a nationwide recall last month, health officials said.

State health officials said Thursday they've tied the bacteria to beef processed in a plant operated by Stampede Meat Inc. of Chicago and sold nationwide to restaurants, retail stores and institutions.

Last month, Stampede Meat voluntarily recalled some 739,000 pounds of vacuum packaged steaks and other meat products. The beef also sold door-to-door by a seller affiliated with Farmers' Pride Meat Co.

The link was confirmed by DNA tests performed in laboratories at Minnesota's Agriculture and Health departments.

The products subject to the recall were produced between March 17 and March 22 and bear the establishment code "EST. 19113" inside the USDA inspection mark.

E. coli is a potentially deadly bacteria that can cause bloody diarrhea and dehydration. The very young, seniors and people with compromised immune systems are at greatest risk.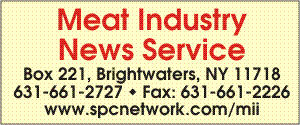 E-mail: sflanagan@sprintmail.com