030702 Bob Evans Announces June Same-Store Sales
July 1, 2003

Columbus, OH - Bob Evans Farms, Inc. announced that same-store sales in "core" restaurants (459 stores which were open for the full 12 months in both fiscal years 2002 and 2003) for the fiscal 2004 month of June (the four weeks ended June 20) increased 3.0 percent from the same period a year ago. Average menu prices for the month were up approximately 2.6 percent.

Bob Evans Farms, Inc. owns and operates 521 full-service, family restaurants in 22 states. Bob Evans Restaurants are primarily located in the Midwest, mid-Atlantic and Southeast regions of the United States, while Owens Restaurants operate in Texas. The company is also a leading producer and distributor of pork sausage and other convenience food items under the Bob Evans and Owens brand names, which are available in 30 states.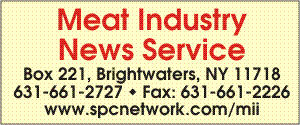 E-mail: sflanagan@sprintmail.com