030636 ConAgra Reports Earnings Fall 22 Percent
June 27, 2003

Omaha, NE - ConAgra Foods Inc. reported its earnings fell nearly 22 percent for the fourth quarter, as sales slumped because of lost revenue from assets divested over the past year.

The huge food company earned $150.4 million, or 28 cents a share, in the three months ended May 25 compared with $192.2 million, or 36 cents a share, in the same quarter a year ago.

The quarter's results reflected ConAgra's asset write-down as it prepares to sell its chicken operations to Pittsburg, Texas-based Pilgrim's Pride Corp. That sale was announced earlier this month.

Excluding that writedown and other losses from discontinued operations, the company earned 42 cents a share, the company said. Analysts expected 41 cents a share, according to the consensus of those surveyed by Thomson First Call.

In the last year, ConAgra also sold its fresh beef and pork business, canned seafood business and some cheese operations, leading to a 33.5 percent drop in sales for the quarter, to $3.9 billion from $5.9 billion a year ago.

The divestitures, however, increased the quarter's operating profit by 4 percent, to $500 million from $480 million a year ago.

"Because we have divested commodity-oriented businesses, we should also benefit from lower volatility of earnings," said Bruce Rhode, chairman and chief executive officer of ConAgra Foods. "We will continue to focus on brand-building, operating efficiencies, customer service, better margins and better returns."

ConAgra's major grocery store brand names include Banquet packaged foods, Marie Callenders, Egg Beaters and Orville Redenbacher's, all of which had sales growth in the fourth quarter.

Sales in packaged foods were down 3 percent overall from the same period last year, however, reflecting the company's divestitures, lower selling prices and declines in foodservice sales.

ConAgra's sales of fertilizer and other farm products were down 3 percent from last year's fourth quarter, but the segment posted an operating profit of $6 million, compared to a loss of $40 million a year earlier.

For the year, ConAgra earned $774.8 million, or $1.46 a share, down from $783 million, or $1.47 a share, a share a year ago.

Sales for the year fell to $19.8 billion from nearly $25.5 billion a year earlier.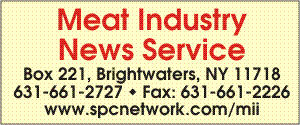 E-mail: sflanagan@sprintmail.com