030629 Canada Expects Expert Panel to Say Beef Safe
June 26, 2003

Ottawa - Canada expects foreign experts who reviewed its handling of its single case of mad cow disease to report soon that the country's meat supply is safe, a federal food-safety official said on Tuesday.

Ottawa plans to use the report of the international panel as ammunition in its fight to get export- market bans on Canadian beef lifted.

Canadian Food Inspection Agency spokesman Mark Van Dusen said that the agency expects the panel to declare that "the meat supply in Canada is safe," based on remarks made by international panel members two weeks ago.

"Then we can certainly use that to support our ongoing discussions with the U.S. to lift the ban," he said.

Van Dusen said he did not know whether the panel would specifically recommend the United States lift the ban it placed on Canadian beef after a single case of bovine spongiform encephalopathy, or mad cow disease, was reported on May 20.

More than 20 countries have since banned Canada beef and beef products, and in some cases the bans include goods with no mad-cow-related restrictions like milk, semen, embryos and hides.

"Some WTO (World Trade Organization) members have suspended imports of products from Canada that are clearly outside of the guidelines," said Sergio Marchi, Canada's WTO ambassador.

"The (international panel) report is now close to completion. Through Canadian embassies, we will be distributing final copies of this report to all countries," Marchi added.

The beef industry has said it is losing up to C$27.5 million ($20.2 million) a day since major export markets such as the United States and Japan closed their borders. The U.S. Department of Agriculture will begin to incrementally ease its ban within a few weeks, barring any setbacks, sources said.

"We might get it (the report) tomorrow (Wednesday), but we should receive it any day now, and before we can comment we'll need to read the report first," said Donald Boulanger, spokesman for Canadian Agriculture Minister Lyle Vanclief.

Ralph Klein, the premier of Canada's biggest beef-producing province, Alberta, was in Washington on Tuesday pressing the case for lifting the U.S. import ban.

Van Dusen said the international panel, headed by Ulrich Kihm of Switzerland, had raised concerns about brain and spinal-column material getting processed into food or animal feed.

"We had those concerns already ourselves and had been reviewing that. If all goes well, we hope to be announcing actions in connection with that in the near future," he said.

A key factor that Washington is weighing in whether to lift its ban is Japan's insistence that the United States keep Canadian-born cattle separate within its handling and processing system starting on July 1.

Boulanger said Japanese and South Korean experts were in Ottawa this week scrutinizing Canada's investigation and planned to go to Western Canada. Van Dusen said he did not think they would make conclusions before leaving the country.

"But obviously the agency is hoping that what we show them, and what they see, will help them determine that our meat supply is safe," Van Dusen added.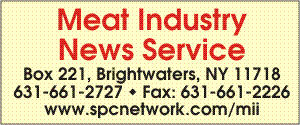 E-mail: sflanagan@sprintmail.com