030613 Tyson Sees U.S. Lifting Ban on Canadian Beef
June 19, 2003

Noordwijk Aan Zee, Netherlands - U.S. Tyson Foods Inc, the world's largest meat company, said it expected a U.S. ban on Canadian beef exports to be lifted shortly.

"There is no scientific reason for it to go on for a protracted period of time... we would expect that the borders could open fairly soon," Tyson Foods' Chief Administrative Officer Greg Lee said.

Canada announced on May 20 that one cow, slaughtered in January, had tested positive for mad cow disease, prompting Washington to impose a ban on beef imports from Canada.

Canada is pressuring the United States, its biggest beef export market, to lift the ban after the outbreak appeared to be confined to a single case in northern Alberta.

Last week, Canadian scientists opened talks with U.S. officials on the ban. During Canada's probe, food safety officials removed about 2,700 cattle from 42 farms and tested 1,954 for the disease. All have come up negative.

U.S. BEEF PRICES RISE

Tyson cut output at its Alberta meat packing plant after the discovery and said at the time that the temporary loss in sales to the United States was not expected to have a material impact on its earnings.

Chief Executive John Tyson said he could not give an update on how the ban was affecting earnings since Tyson was in its blackout period ahead of third quarter results on July 28.

He said the import ban, however, had helped strengthen U.S. beef prices due to tighter supplies with the lack of Canadian shipments and strong demand as U.S. consumers shrug off any worries about the mad cow disease.

Last year, Canada shipped about one billion pounds of beef and one million cattle to the United States.

Tyson said that U.S. beef demand remained buoyant ahead of the key U.S. Independence Day holiday on July 4 when many families hold outdoor picnics and grill beef. Beef sales account for nearly half of Tyson's overall turnover.

Lee said that despite Russian trade disputes which have interrupted U.S. shipments of poultry, the overall effect on Tyson had been minimal.

Russia had halted U.S. shipments of poultry over safety concerns last year, but this occurred in fits and starts, allowing periodic shipments. Tyson's poultry shipments to Russia this year might even remain at the same level as last year.

"If it all shakes out, one would hope for a similar level to last year," he said, giving no figures.

Tyson, the world's largest processor and marketer of chicken, beef and pork, is the second- largest food company in the Fortune 500.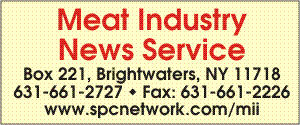 E-mail: sflanagan@sprintmail.com