030526 McDonald's, Tyson Fall on Mad Cow Worries
May 21, 2003

Chicago - Shares in major hamburger chains like McDonald's Corp. and big beef processor Tyson Foods Inc. fell sharply after Canada said it had confirmed a case of mad cow disease.

The fatal brain-wasting disease has never been detected in U.S. cattle, but a case so close to the U.S. border scared investors.

Mad cow caused sharp declines in beef consumption in Britain, Continental Europe and Japan after outbreaks there in recent years. A similar disease in humans is contracted by eating tainted meat from infected animals.

"Restaurant stocks most at risk include McDonald's, Wendy's, Jack in the Box, and Outback Steakhouse. These companies own concepts heavily dependent on beef," Mark Kalinowski, a Smith Barney Citigroup analyst, said in a research report.

Shares of McDonald's sank $1.21, or nearly 7%, to close at $16.95 on New York Stock Exchange trading, making the stock the top loser in the Dow Jones Industrial Average.

A cow in Alberta, Canada's top cattle-producing province, tested positive for the disease, Canadian officials said on Tuesday. It was the first confirmed case of mad cow, known as bovine spongiform encephalopathy, of a cow raised in Canada. Canada's only other case was in 1993, but that animal was imported from Britain.

U.S. agricultural officials on Tuesday temporarily halted imports of Canadian cattle, sheep, and goats, as well as processed meat.

'PERCEPTION' AN ISSUE

John Glass, an analyst with CIBC World Markets, said even though Canada is not a major market for McDonald's, "this is a serious issue, because you're not dealing in facts, you're dealing in perception."

McDonald's said in a statement that it does not import any raw beef or hamburger patties from Canada for use in the United States. Its Canadian operations only buy beef from facilities that are federally inspected and approved by the Canadian Food Inspection Agency.

Tyson Foods said that while its Lakeside Packing Plant in Brooks, Alberta, is not involved in the case, it is affected in the short term by the temporary ban on Canadian beef shipments by the United States. Its shares fell 46 cents, or nearly 5%, to $9.01, on the NYSE.

"While the ban is in effect, we plan to reduce production at Lakeside to a level equal to our Canadian customers," it added in a release. "The temporary loss in sales to the United States is not expected to have a material impact on the company's earnings."

Wendy's International Inc., the No. 3 hamburger chain, saw its shares fall $2.01, or 6.6%, to $28.55. "There is no evidence that the situation in Canada warrants changes in our business approach at this time," Wendy's said in a release late on Tuesday.

Outback Steakhouse Inc., a U.S. restaurant chain, said in a statement that the company only serves USDA top choice or prime Midwestern grain-fed beef. Its shares fell $1.16, or 3%, to $35.46 on the NYSE.

News of the Canadian case sent U.S. cattle prices, traded at the Chicago Mercantile Exchange, down the daily limit as traders feared beef consumption would drop.

The human variant of the disease, known as Creutzfeldt-Jakob Disease, has killed more than 100 people in Britain and Europe in recent years.

Beginning in late 2000, McDonald's saw demand for hamburger weaken as mad cow concerns in Europe, and later Japan, led to consumer aversion to beef. No McDonald's hamburgers were ever linked to tainted beef.

Concern over mad cow in Canada could effect consumer beef buying in the U.S. market, analysts said.

"That is the real risk for...Tyson, if demand for beef falls by 25% overnight like it did in Japan and Britain," Todd Duvick, food industry analyst with Bank of America, said.

Smithfield Foods Inc., a major U.S. pork producer with beef operations, said it does not buy cattle from Canada. It could see an increase in pork sales if consumers switch from beef to other meats, Duvick said.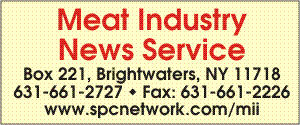 E-mail: sflanagan@sprintmail.com