030524 USDA to Resume Canada Beef Trade if No New Cases
May 20, 2003

Washington - The United States would reopen its borders to Canadian beef imports "fairly soon" if no other cattle test positive for mad cow disease, a U.S. Agriculture Department official said on Tuesday.

The USDA earlier on Tuesday temporarily banned imports of Canadian cattle, sheep, goats and other ruminant products after Ottawa reported a case of mad cow disease in an Alberta cow.

USDA Undersecretary J.B. Penn said the department was awaiting test results for the rest of the affected herd.

"When we get some notion about the results from those tests, then we will evaluate where we are," Penn told reporters. "If all of those are negative, I think we would open the border fairly soon."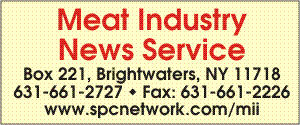 E-mail: sflanagan@sprintmail.com