030523 Scientists Cut Predictions of Human Mad Cow Cases
May 20, 2003

London - As few as 40 and at most about 540 people in Britain are likely to develop the human form of mad cow disease from eating tainted beef in the coming decades, scientists said.

New estimates by researchers at Imperial College London suggest the number of people suffering from variant Creutzfeldt-Jakob disease (vCJD) over the next 80 years will be nowhere near the 50,000 predicted just a few years ago.

"The best estimate is that there will be 40 future cases and those would most likely occur in the next couple of years. They would not be 40 cases spread out over 80 years," said epidemiologist Dr. Azra Ghani.

Judging how the disease would progress in humans or when it would peak has been difficult because of the long incubation period, which scientists believed could be from 10-20 years or longer.

Ghani and her team now believe the time between infection and the onset of symptoms is 12.5 years.

"The peak was in 2000. In 2001 and 2002 there have gradually been less cases. A very large epidemic is totally inconsistent with that because you would have expected to see 60 or 100 cases per year by now," she said.

Since 1996 when vCJD was first identified, 129 cases of the degenerative brain disease linked to eating meat infected with bovine spongiform encephalopathy have been reported in Britain.

The average age when symptoms of the disease begin is 26 and most sufferers die about two years later.

Ghani, whose research is reported by Biomedcentral, a peer-reviewed online journal (www.biomedcentral.com), stressed that the estimates refer only to people who catch the disease from eating beef contaminated with BSE.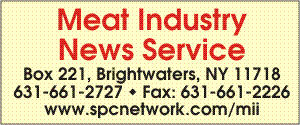 E-mail: sflanagan@sprintmail.com