030516 Beef to Set Nutrition Record Straight
May 16, 2003

Denver, CO - America's beef producers launched a first-of-its-kind advertising campaign that compares the nutritional benefits of lean beef and skinless chicken. The ads, funded by checkoff dollars, use government data to illustrate lean beef compares favorably to skinless chicken breast in terms of fat, yet provides greater amounts of some essential nutrients.

According to the U.S. Department of Agriculture (USDA) database that lists the nutrient compositions for all foods, six of beef's leanest cuts have, on average, just one more gram of saturated fat but eight times more vitamin B12, six times more zinc and three times more iron than chicken's leanest cut: the skinless chicken breast.

"We're not saying 'don't eat chicken.' We are saying that you can feel good about eating lean beef," said Mark Thomas, vice president, consumer marketing, National Cattlemen's Beef Association (NCBA). "With so much conflicting nutrition information out there, it's time to set the record straight. People love beef. And now, they can enjoy lean beef for its great taste and its nutrient benefits."

The series of four ads will appear in the July and September issues of 23 consumer-interest magazines. They feature full-page photos of beef and humorous headlines such as "Lean beef's actually lower in fat than you think. Makes you wonder about eating all that skinless chicken, doesn't it?" and "Lean beef is nearly as lean as chicken. Bet that really frustrates chickens, after all the running around they do."

"The truth is lean beef is a nutrition powerhouse," said Mary K. Young, M.S., R.D., executive director, nutrition, NCBA. "We've launched this campaign to let beef lovers know that lean beef compares favorably to the fatty acid profile of skinless chicken breast, but gives you more essential nutrients like zinc, iron and vitamin B12."

The campaign's nutritional comparison is based on a 3-ounce cooked serving of skinless chicken breast to an average of 3-ounce cooked servings of six widely-available cuts of lean beef: eye round roast, top round steak, top sirloin steak, boneless shoulder pot roast, round tip roast and shoulder steak. While these lean beef cuts have, on average, just one more gram of saturated fat, their total fat content is still only a fraction (less than 10%) of the recommended Daily Value.

In addition to the six lean cuts of beef referenced in the ad campaign, there are at least seven more cuts that meet the government requirements for lean or extra lean, and include some of America's favorites, such as tenderloin, T-bone steak and 95% lean ground beef. When shopping for these leaner cuts of beef in the grocery store, look for the words "round" or "loin" in the name.

"We want to remind people that beef is, and has always been, one of nature's best-tasting multivitamins. It's an 'excellent source' of five nutrients -- protein, zinc, phosphorus, selenium, vitamin B12 -- and a 'good source' of four -- iron, niacin, riboflavin and vitamin B6," said Young. "These nutrients are important for good health and may play a positive role in some of today's major health issues, including improved bone health, prevention of anemia, healthy fertility and even maintaining muscle mass during weight loss."

The campaign is funded by America's beef producers through their $1-per- head checkoff program. It's being managed for the Cattlemen's Beef Board and state beef councils by NCBA. The ads were created by Leo Burnett USA, Chicago.

For the USDA data on the nutritional composition of more than 6,200 foods, go to www.nal.usda.gov/fnic/foodcomp . For more information about NCBA's nutrition ad campaign, nutritional information about beef and delicious recipes, visit www.BeefItsWhatsforDinner.com .

Beef industry nutrition education efforts are funded by beef producers through their $1-per-head beef checkoff program and are managed for the Cattlemen's Beef Board and state beef councils by the National Cattlemen's Beef Association. The national beef checkoff is administered by the Cattlemen's Beef Promotion and Research Board. This 110-member board is appointed by the Secretary of Agriculture to oversee the collection of the $1- per-head beef checkoff, certify state beef councils, implement the provisions of the Federal Order establishing the checkoff and evaluate the effectiveness of the checkoff programs.

Producer-directed and consumer-focused, the National Cattlemen's Beef Association is the trade association of America's cattle farmers and ranchers, and the marketing organization for the largest segment of the nation's food and fiber industry.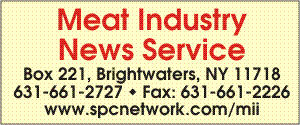 E-mail: sflanagan@sprintmail.com