030514 Court Reinstates Excel Lawsuits
May 14, 2003

Milwaukee, WI - A state appeals court reinstated 14 lawsuits against a meat company accused of supplying Wisconsin restaurants with contaminated beef that sickened dozens of people and led to a girl's death.

The decision reversed a county judge's ruling last year that Excel Corp. could not be sued for supplying E. coli-contaminated beef to Sizzler restaurants in Milwaukee and Wauwatosa.

More than 60 people fell ill and a 3-year-old Milwaukee girl died after eating at the restaurants in July 2000. Health officials believe the tainted meat led to contamination of other foods, which the patrons ate.

Investigators blamed Sizzler's meat handling procedures for the additional contamination. E. coli bacteria can cause food poisoning.

Excel's lawyers had argued the company was not liable because it did not mishandle the meat and because it complied with federal inspections. But the appeals court rejected those arguments.

"Just because federal inspectors are at the plant, that doesn't mean it's the government's primary responsibility to make sure meat is safe," said Denis Stearns, an attorney for more than a dozen people who say they were sickened. "It's the company's responsibility."

Mark Klein, director of communications for Excel, said the company disagreed with the ruling and would appeal to the Wisconsin Supreme Court.

"We're deeply committed to food safety," he said.

Sizzler USA and E&B Management, the company that operated the two Sizzler franchises, earlier reached a settlement with 20 people for more than $260,000 in medical bills. Both companies, along with several insurance companies, are also suing Excel.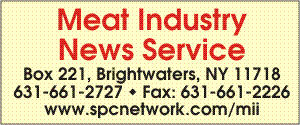 E-mail: sflanagan@sprintmail.com