030510 Checkers/Rally's New Screamin' Chicken
May 14, 2003

Tampa, FL - Checkers Drive-In Restaurants, Inc., the nation's leading double drive-thru chain, announced that their latest adult-focused menu items -- new Screamin' ChickenŽ Sandwiches -- are approaching nearly 20% of sales. Available in three great varieties, the new sandwiches "scream" flavor and value and are available for a limited time at the double drive-thru windows of participating Checkers and Rally's.

"Today's Checkers and Rally's are highly competitive in the fast food marketplace. We are financially strong as our recent first quarter earnings report has shown, our franchisees are actively involved in and supportive of our initiatives, we have award-winning advertising, and we're operating smarter with new technologies and energized employees," said Keith E. Sirois, Interim CEO of Checkers Drive-In Restaurants, Inc. "Because of these accomplishments, we are now positioned to offer new products and consumer promotions that will further separate us from the pack."

Checkers and Rally's new Screamin' Chicken Buffalo Blue Cheese sandwich, Screamin' Chicken Bacon Ranch sandwich, and traditional Screamin' ChickenŽ sandwich are available at an introductory price through June 8, 2003. The three new sandwiches are made with top quality, all white meat chicken tenders and served on six-inch hoagie buns. The average promotional pricing includes two Buffalo Blue Cheese or Bacon Ranch sandwiches for $4 and two traditional Screamin' Chicken sandwiches for $3.

"Very few quick service restaurants can offer the adult-focused, premium menu choices that Checkers and Rally's can. This is a casual-theme quality product line offering a high-taste profile at a can't-beat-it price. Checkers and Rally's continues to see transaction growth at our stores -- a true measure of a successful 2003 strategy," said Richard S. Turer, Vice President of Marketing, Checkers Drive-In Restaurants, Inc.

"The quality and taste of our Screamin' Chicken Sandwiches are unmatched in the fast food market," continued Mr. Turer. "And after the recent and successful introductions of such limited-time offers as the KahluaŽ shakes, Double Mushroom Swiss Burgers, and Beer Battered Onions with Aussie Saucy(SM), Checkers and Rally's has found a real formula offering real food at real value to real people. We are very excited about our future."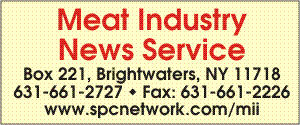 E-mail: sflanagan@sprintmail.com