030507 Cargill Recognizes Suppliers of Clean Cattle
May 9, 2003

On April 25th, Grandview Cattle Feeders Ltd. and Riverside Feeders Ltd. received the inaugural Sterling Food Safety award presented by Cargill Foods.

The Sterling Food Safety award was recently introduced by Cargill Foods to recognize feedlots that consistently provide the cleanest cattle to the beef processing facility.

"The cleaner the cattle are, the easier it is for Cargill Foods to continue to produce high quality beef. Grandview and Riverside continue to provide a great service to the cattle industry with their focus on food safety, pen maintenance and their attention to detail," said Brian Derksen, general manager, Cargill Foods - High River.

Recent research has increasingly demonstrated the importance of clean hides in reducing the potential levels of E. Coli O157:H7 that can be introduced during the slaughter process. To allow better tracking, Cargill has implemented a mud scoring system that tracks the level of tag, mud and manure on each lot of cattle.

Cargill Foods - High River, which opened in 1989, is a fully integrated beef processing facility, with slaughter, fabrication, rendering and hide operations all under one roof. The plant employs 2,000 individuals and processes 4,000 head of cattle each day.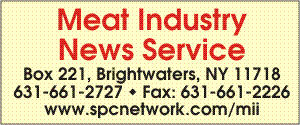 E-mail: sflanagan@sprintmail.com