030505 National Hamburger Month at White Castle
May 9, 2003

Columbus, OH - What better time to celebrate one of America's favorite foods than in May, when people are out and about enjoying great weather? And who better to host it than White Castle, the original fast food hamburger chain? Well, White Castle is the official sponsor of National Hamburger Month and the company has planned a host of activities to celebrate the most American of entrees, the hamburger.

The festivities include the kick-off of the 12th annual Crave Time Cook-Off Recipe Contest, the induction of 10 new members into the White Castle Cravers Hall of Fame, and team members from the home office will work in locations across the northeast United States.

All cravers are encouraged to tap into their inspirational energies and invent a great new recipe for the eleventh annual "Crave Time Cook Off." Hamburger lovers who send in their unique recipe using 10 hamburgers could win 52 Crave Cases of 30 White Castle hamburgers, one per week, for a year.

Recipes should be sent with name, address and phone number to: White Castle Management Company, c/o Recipe Contest, 555 West Goodale St., Columbus, OH 43215. They also can be entered on the Web site: www.whatyoucrave.com . Recipes must be sent in by June 27, 2003. The winner will be determined in August by a panel of judges based upon originality and taste. The top ten recipes will appear in a booklet of recipes released in time for Thanksgiving.

White Castle also observes National Hamburger Month by having team members from the corporate office go to various locations and work a shift in a restaurant. More than seventy volunteers will find out what it is like to work on the "front lines" directly with the customers, and observe all the hard work the team members in the restaurants do every day.

The induction of some of White Castle's biggest fans into the Cravers Hall of Fame will take place in a ceremony held on May 22 at the White Castle corporate office in Columbus, Ohio. The Hall of Fame is White Castle's way of thanking the company's most loyal and dedicated fans -- the people who help ensure the success of the company. Ten stories submitted for this year's contest were selected for induction in 2003. The inductees this year include members of the clergy, the military, zoo volunteers and some good old- fashioned romantics.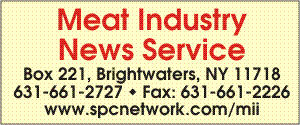 E-mail: sflanagan@sprintmail.com