030502 Nebraska Beef Ltd. Sues USDA Inspectors
May 7, 2003

Omaha, NE - A meatpacking company the federal government tried to shut down in January over food safety concerns has sued nine inspectors, claiming they unfairly targeted the plant for their own gain.

The inspectors wanted to obtain promotions, enhance the U.S. Department of Agriculture's reputation and increase overtime opportunities, the lawsuit filed Monday by Nebraska Beef Ltd. in U.S. District Court said.

The lawsuit named Dennis Greening, district manager of the food safety and inspection program in Des Moines, Iowa; Ronald Seitz, circuit supervisor out of Des Moines; inspectors Chander Dev, Michael Fast and Duane Shonka; and four unidentified USDA officials whose duties were not specified.

At least two of the inspectors named in the lawsuit had received a promotion since the company's troubles with the USDA began in September, Bill Lamson Jr., an attorney for Nebraska Beef, said Wednesday.

In a separate lawsuit, Nebraska Beef claims the USDA acted unfairly toward the plant in its inspections and it seeks relief from the alleged mistreatment.

Both lawsuits claim the inspection process has hurt the plant's business and they seek unspecified damages.

Terry Parkhurst, management assistant in the Des Moines office, said all comment would have to come from the USDA in Washington, D.C. Steve Cohen at USDA in Washington said he could not comment on the lawsuits.

In January, Nebraska Beef challenged the federal agency's attempt to remove its inspectors from the Omaha plant, which would have brought its production to a halt.

The company argued it had responded sufficiently to USDA concerns. It claimed in court documents that it had been subjected to scrutiny and penalties that were not assessed at other packing plants and that had hurt its business.

The privately owned company said a shutdown could cost it $2.7 million a day and put 1,100 people out of work.

The lawsuits were assigned to U.S. District Judge Joseph Bataillon, the same judge who in January granted a restraining order against the government and who dismissed the case a few weeks later after the company and USDA reached a settlement.The settlement allowed the USDA to shut down the plant if it determines the company is not meeting its obligations under the accord.

In its lawsuit Friday, Nebraska Beef claims the USDA has violated the settlement agreement's terms for fair inspections and asks that it be declared null and void.

Since the settlement, the company has received 58 reports of noncompliance of food safety standards by the USDA, the lawsuit said. The company said the notices were filed despite "operating its business operations in a consistent and continuous manner."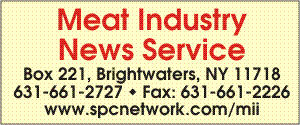 E-mail: sflanagan@sprintmail.com