030221 Smithfield Earnings Hurt by Hog Prices
February 27, 2003

Chicago - Smithfield Foods Inc., the biggest U.S. pork and hog producer, said on Tuesday its quarterly profit dropped 90%, largely because of low prices for the hogs it raises.

The company said results for the fourth quarter ending in April are likely to exceed those of the previous three months, but not the year-earlier period.

Meat companies like Smithfield and Tyson Foods Inc., the nation's largest meat producer, have been hurt by a surplus of meat this past year, which has resulted in low livestock and meat prices.

"The excess protein supply continues," Chief Executive Joseph Luter III said in a statement. "Over the near term, live hog prices and fresh pork margins may remain unfavorable."

For the third quarter ended on Jan. 26, profit dropped to $5.3 million, or 5 cents per diluted share, from $54.5 million, or 48 cents per diluted share, a year earlier.

Earnings came in slightly higher than Smithfield's January outlook of 4 cents a share.

Sales slipped to $2 billion from nearly $2.1 billion.

Luter said he was satisfied with the results "given the overall adverse industry conditions for both fresh pork and hog production."

Smithfield's Hog Production Group, which sells more than 13 million market hogs a year, lost $64 million during the quarter, reversing a year-earlier profit of $30.7 million.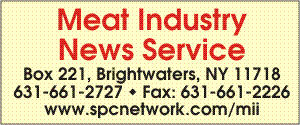 E-mail: sflanagan@sprintmail.com