030215 New Spicy Chicken Strips Blaze at Popeyes
February 21, 2003

Atlanta, GA - Popeyes Chicken & Biscuits, a division of AFC Enterprises, Inc. and the world's second-largest quick-service chicken concept, is introducing its freshly prepared spicy chicken breast strips as a permanent Popeyes menu item. The spicy strips are just the first of many new and flavorful items that Popeyes will be introducing this year.

``We always want to provide our customers with flavor options at Popeyes,'' says Joe Scafido, Popeyes Chicken & Biscuits Chief Menu & Marketing Officer. ``We know our customers love our chicken breast strips as displayed by the significant increase of pounds of strips shipped to our distributors in just the first five weeks of the year. We are again giving customers what they want by adding the spicy strips permanently to the menu. Now they can experience the same spicy flavor in our chicken strips as they've enjoyed for years in our bone-in chicken.''

Four years ago, Popeyes anticipated the demand for boneless chicken strips and introduced mild chicken strips to its everyday menu. Our boneless chicken category sales have more than tripled since that launch.

``Popeyes got its start in Louisiana, a state known for its flavorful food,'' said Scafido. ``Spicing up our chicken strips is just one more way that we can take pride in our heritage and share it with our customers!''

The new freshly prepared spicy chicken strips are as juicy and tender as Classic Mild, but a notch higher on the spice meter. For a limited time introductory offer, customers can purchase two strips (either mild or spicy) and a biscuit starting at $1.99. Chicken breast strips will also be sold as three-piece dinners and combo meals.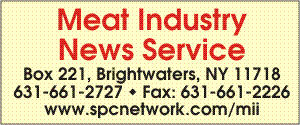 E-mail: sflanagan@sprintmail.com