030211 Investor Sues Defunct Japanese Meatpacker
February 10, 2003

Tokyo - An investor in defunct Japanese meatpacker Snow Brand Food Co. is suing 13 of its former top officials for damages Monday after a mad cow meat mislabeling scam forced the company to shut down.

Eiichi Nozue, who still holds 1,000 shares in Snow Brand, is demanding the executives pay back a combined total of 30.5 billion (US$254 million) to the company, according to Kyodo News agency.

Snow Brand, Japan's sixth largest meatpacker, admitted early last year to mislabeling imported beef as domestic in order to take advantage of a government buyback program.

The program involved buying back domestic meat possibly tainted with mad cow disease to get it off the market. The company eventually collapsed in a backlash over the scam, which dented public trust in corporate ethics and product safety.

Tokyo District Court spokeswoman Emi Shimoyama confirmed that Nozue had filed the suit Monday against company officers, including its former president, Shozo Yoshida. She didn't provide further details.

Nozue said mismanagement by Snow Brand's executives led to the company's collapse in April last year, Kyodo reported.

Last November, five of Snow Brand's former managers were given suspended prison terms for their roles in the scam.

The Japanese government has spent billions of yen (millions of U.S. dollars) buying and disposing of local beef potentially contaminated with brain-wasting mad cow disease, which afflicts cattle but is linked to a fatal human variant, Creutzfeldt-Jakob disease.

Beef sales in Japan plunged after authorities here reported the first case of mad cow disease outside of Europe in September, 2001. So far, Japan has confirmed seven cases of mad cow disease.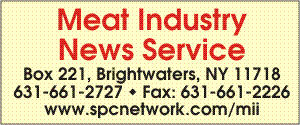 E-mail: sflanagan@sprintmail.com