030208 Poultry Industry Struggles with Disease, Trade
February 8, 2003

Washington - As the U.S. poultry industry struggles to stabilize trade relations with Russia, it faces new troubles from a bird disease spreading eastward from California.

The problems are "hitting us from every direction right now," said Jim Sumner, president of the USA Poultry and Egg Export Council.

The bird virus, Exotic Newcastle disease, was first found in California in October and since has spread to Nevada and Arizona in the southern United States. The disease poses no threat to humans, but it is highly contagious among chickens, usually paralyzing and killing them. Russia, Canada and Mexico have all placed bans on poultry and egg imports from the three infected states.

The Southwest does not produce a lot of poultry, so the economic damage has been minimal, Sumner said. But he added that businesses worry the disease will spread and infect broiler chickens in leading poultry states such as Georgia and Maryland.

The illness spreads among flocks through droppings, breath and eggs. Humans can carry the virus on their shoes and clothes.

Agriculture Department officials have set up a task force of state and federal officials to control the spread of the disease. So far, 1.8 million chickens have been killed in the effort.

Trade issues, however, are posing a greater concern. American poultry producers had $800 million in losses last year because of trade trouble with Russia and could lose at $2 billion this year unless the situation is resolved.

The industry used to send 40% of its exports to Russia, but Sumner said it has dropped to 30% since 2001 because of the embargo and concerns over food safety. Before the dispute, U.S. producers in 38 states sent $600 million to $700 million worth of poultry to Russia each year, making chicken the largest U.S. export to Russia.

U.S. and Russian officials have met regularly since the fall to reach a compromise over plant safety standards that Russia is demanding of U.S. companies. If an American plant fails to meet the standards, the Russians will not grant it a veterinary certificate allowing its exports.

Like the United States, Russia has its own processing and food safety laws intended to keep poultry products and plants clean. In November, Russian inspectors checked 76 U.S. poultry plants and then stopped after finding more than a dozen did not meet their standards.

One Russian standard would require U.S. plants to add walls separating slaughtering from processing operations.

"We have decided that we want to finalize the inspection requirements before we bring them back over here to continue the inspections because there were too many differences in the criteria," Sumner said. "They have one philosophy and we have another philosophy."

Sergei Strokov, agricultural counselor for the Russian Embassy in Washington, said there are some slight differences but "nothing extraordinary" in safety laws, including testing requirements for harmful bacteria such as salmonella and listeria.

"All American companies can easily meet them. It's just a matter of time and preparation," Strokov said. "That's why we think all companies who would really like to export to Russia after some preparation would be easily certified for that."

U.S. companies have until the end of May to comply with Russian requirements. Sumner said he believes the issue will be resolved by then.

Russia also is proposing to set an annual quota of 535,000 tons for the United States, which would begin May 1.

"It's actually a very low limitation compared to our trade last year," Strokov said, referring to Russia's embargo on U.S. poultry.

Russia may be trying to aid its own poultry companies by setting up barriers for exporters, but its plants do not have the capability to meet demand, said Jacinto Fabiosa, a poultry analyst at the Food and Agricultural Policy Research Institute.

Russia produced 500,000 metric tons of poultry in 2002 and imported 1.2 million tons.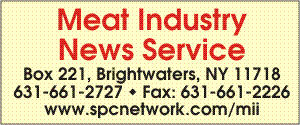 E-mail: sflanagan@sprintmail.com