030203 Burger King Taps Trinity Capital for Aid
February 5, 2003

Miami, FL - Burger King Corp., the world's No. 2 hamburger chain, on Monday said it hired investment banking firm Trinity Capital Inc. to assist struggling franchisees in recapitalizing their operations.

"Clearly one of the most pressing issues facing the Burger King system today is the financial distress of a number of our franchisees," Burger King Chief Executive Brad Blum said in a statement.

Miami-based Burger King has been locked since late last year in a costly discounting war with industry leader McDonald's Corp. Its agreement with Trinity Capital follows the early December bankruptcy filing by AmeriKing Inc., one of Burger King's largest franchisees.

Blum said Burger King will pay the fees for Trinity Capital to act as "a neutral third party and negotiate the quickest possible resolution among the franchisees, lenders and Burger King Corp." He said the company wants its franchisees to become profitable enough to reinvest in improving service and appearance at their restaurants.

Trinity Capital has expertise in the retail and food industries. According to the firm's promotional materials, it has done work for Taco Bell parent Tricon Global Restaurants Inc., now Yum! Brands(NYSE:YUM - news), pork producer Smithfield Foods(NYSE:SFD - news) and the Hardees hamburger chain, a unit of CKE Restaurants, among others.

McDonald's and Burger King both have slashed prices on their premium hamburgers to drive up sales, a factor that has been blamed for eroding profit margins. McDonald's reported its first-ever quarterly loss in January.

Representatives for Burger King and Trinity Capital were not immediately available to comment.

Some 91% of Burger King's 11,450 worldwide restaurants are owned and operated by independent franchisees. The company posted fiscal 2002 systemwide sales of $11.3 billion.

Burger King was sold in December by British drinks conglomerate Diageo Plc to a private equity consortium led by Texas Pacific Group.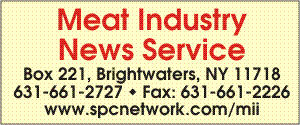 E-mail: sflanagan@sprintmail.com