030202 Wendy's Sees Profit Growth Below Goal
February 5, 2003

Chicago - Wendy's International Inc., the third-largest hamburger chain, said it expects 2003 earnings miss its target, citing a price war between larger fast-food rivals and rising costs, including beef.

Wendy's has stayed out of a discounting battle begun late last year by fast-food industry leader McDonald's Corp. and No. 2 hamburger chain Burger King Corp. McDonald's reported its first-ever quarterly loss in January.

The price war, coupled with an unusually cold winter and rising costs, prompted Wendy's to cut its 2003 per-share earnings growth estimate to 7% to 10%, below a longer-term goal of 12% to 15%.

"Our cautious outlook is influence by a number of factors, including the economy, the discounting and the weather in January," Wendy's Chief Financial Officer Kerrii Anderson told investors during a conference call.

Cold weather in part led to a sales decline of 3.5% in January at Wendy's-owned U.S. stores open at least 15 months, she said.

Wendy's said it expects beef costs to rise 3% to 5% in 2003. In addition the company said it is facing increased labor and utility costs.

Wendy's shares rose 11 cents to close at $27.26 on the New York Stock Exchange, recovering earlier losses. McDonald's rose 28 cents to finish at $14.52, also on the NYSE.

"Wendy's International continues to target its long-term 12-15% (earnings per share) growth. However, it will see some bumps in the interim with the current difficulties in the (fast-food) environment as it laps its own success," wrote Banc of America Securities analyst Andrew Barish in a Monday report.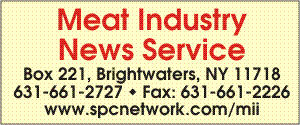 E-mail: sflanagan@sprintmail.com