021237 Democrats Feel Misled in Meat Recall Probe
December 27, 2002

Washington - Four Democratic lawmakers accused the U.S. Agriculture Department on Thursday of "misleading Congress" in its investigation of a former ConAgra Foods beef plant, blamed for an E. coli outbreak that sickened dozens of people this summer. The Greeley, Colorado, plant, which was sold to privately held Swift & Co. in September, recalled nearly 19 million pounds of ground beef from grocery stores in July. At the time, it was the second largest meat recall in U.S. history.

In a letter to U.S. Agriculture Secretary Ann Veneman, the four -- Sen. Richard Durbin of Illinois, California Rep. Henry Waxman, Ohio Rep. Marcy Kaptur and Connecticut Rep. Rosa DeLauro -- said the department omitted "important information about safety problems at the ConAgra plant."

The group has repeatedly asked Veneman for full disclosure of the USDA's investigation into the recall.

"This omission had the effect of misleading Congress about the nature of food safety problems at the plant, and USDA's continuing failure to answer our questions perpetuates this misinformation," the letter said.

USDA officials were not immediately available for comment.

The department did reply in September, but the submitted documents were deemed insufficient by Democrats, saying the USDA did not reveal a string of food safety violations at the Colorado plant.

Based on news reports, Democrats said USDA inspectors had cited the plant 31 times from July 1, 2001 to Aug. 27, 2002 for contaminated meat.

"We urge you to provide an immediate and complete response to the questions we raised in our July 26 and Sept. 12 letters," the latest letter said.

Last month, USDA inspectors closed the Colorado plant for four days because of animal feces contamination. The E. coli bacteria is carried by feces, which can spill onto other parts of an animal carcass during slaughter.

The plant is one of the largest slaughtering operations in the country, averaging about 5,500 head of cattle daily. The plant is controlled by a partnership that is majority-owned by a private investor group led by Hicks Muse Tate & Furst and minority-owned by foodmaker ConAgra.

Beef at the plant was linked to at least 28 illnesses in seven states last summer.

Some of the beef was contaminated with E. coli O157:H7 bacteria. E. coli causes bloody diarrhea, vomiting and cramps. In severe cases, usually involving small children and the elderly, it can lead to kidney failure and death.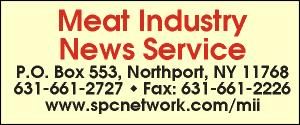 E-mail: sflanagan@sprintmail.com