021226 Franchisee Assn Supports Burger King Sale
December 17, 2002

Atlanta, GA - Diageo Plc announced last week that it has signed a definitive agreement for the sale of Burger King Corporation to an equity investment group led by Texas Pacific Group (TPG). The National Franchisee Association Inc. (NFA), the official representative of the Burger King franchisee community, says it strongly supports the new ownership group headed by TPG. Goldman Sachs Capital Partners and Bain Capital are additional members of the consortium.

"Today is the first day of a new era for Burger King Corporation and its franchisees," said NFA Chairman Julian E. Josephson. "It brings to fruition our goal of separating Burger King from Diageo, an effort which the NFA initiated over two years ago. The franchisee community is now free to focus entirely on the day-to-day running and growth of its business."

Franchisees own more than 92 percent of the Burger King system's restaurants worldwide. The NFA represents 95 percent of these independent business owners throughout the U.S., Canada and Europe.

Mr. Josephson noted that the NFA is particularly pleased that the Texas Pacific Group consortium decided to move forward with the transaction, which was initially announced in July of this year. "From the outset, we viewed TPG as our preferred partner, and we are confident that its long history of successful investments in high profile branded business in competitive industries will make it an exemplary steward of the Burger King Brand," he said.

Mr. Josephson said he believes the new ownership group will work closely with the franchisee community and Burger King's management team to maximize the potential of the Burger King Brand, build market share, restore profitability and protect and preserve the assets of franchisees.

"Serving our customers remains the heart and soul of our business. It's what I believe we do better than anyone else in the Quick Service Restaurant industry," said Mr. Josephson. "To do this at the highest level, Burger King must move forward with a relevant and cohesive marketing strategy, advertising that drives traffic and new product introductions that will generate interest as well as profitable revenue. Our business is truly one that requires constant reinvention, and I believe that the pieces are now in place to produce a new, energized Burger King," he concluded.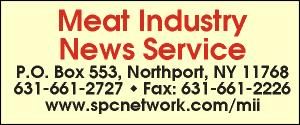 E-mail: sflanagan@sprintmail.com